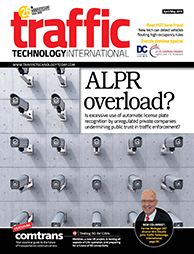 The February/March issue is now available online! Packed full of news, interviews and features, including:
COVER STORY : ALPR OVERLOAD? – As ALPR becomes cheaper and easier to deploy, private companies are beginning to use it to enable targeted marketing and more. Do such developments represent an overuse of the technology that could erode public trust in traffic enforcement techniques?
HOT ENFORCEMENT : ARE HOT FRAUDS LAUGHING AT YOU? – High-occupancy vehicle and toll (HOV and HOT) lanes are designed to reward passenger carrying drivers with faster journey times and discounts. But cheating is rife.
BICYCLE MANAGEMENT : PEDALING DATA – London's cycling boom may be slowing, but innovative developers and campaigners in the city are now making rapid progress in incorporating bicycles into an ever-richer traffic data picture.
INTERVIEW : SHERIF MARAKBY – Attendees of this year's ITS America Annual Meeting will find Ford's Sherif Marakby in a collaborative mood when it comes to planning AV deployment.