VivaCity has announced the launch of its latest signalling solution, Smart Signal Control: AI for Detection, integrating VivaCity's highly accurate multimodal road user data into existing urban traffic control (UTC) systems.
AI for Detection offers a wide range of traffic monitoring datasets. These include vehicle paths, classified counts of a range of transport types, including e-scooters, pedestrians, cyclists and buses – anonymous journey time data, and speed insights.
The new solution enables junctions to operate more efficiently by responding to real-time demand and allows optimisation for active travel road users and the setting of multiple detection zones. Compatible with Yunex, Swarco, and Telent signal controllers, AI for Detection is a multimodal alternative to induction loops, with reduced maintenance liability and maximised responsiveness.
In Leeds, over 180 AI for Detection sensors across 25 sites are enabling the city to tackle congestion with an innovative approach thanks to the real-time detection of buses, cyclists, pedestrians and other road users at junctions.
Integrating multimodal detection data into Leeds City Council's existing control systems is enabling more dynamic and responsive signal control and less stop-start traffic. The sensors can be optimised for active travel by detecting cyclists approaching the crossing from up to 70 metres away and providing a green signal for their arrival. Leeds is also finding the solution highly effective for improving bus journeys, upon which many commuters rely.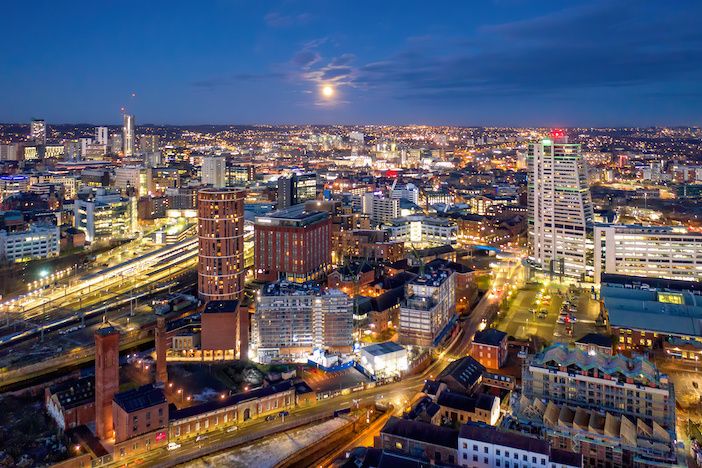 "Our work with VivaCity is making Leeds a safer and more efficient place to travel sustainably. As a city, we've experienced increasing problems with congestion and pollution," says Joel Dodsworth, urban traffic management and control manager at Leeds City Council. "We're seeing real potential for this technology to improve our bus network because it will enable us to prioritise buses at junctions more effectively at crucial times of the day, while also balancing the needs of pedestrians and cyclists. Overall Smart Signal Control is making travelling around Leeds more efficient and pleasant for our community, and the city less polluted."
Beyond the signal control benefits the sensors' breadth of datasets will support Leeds' other sustainable transport initiatives and our overall understanding of road user behaviours which can help direct future transport investment.
"There is a real need for data to help better inform councils and local authorities, enabling them to level up their infrastructure in towns and cities," says Mark Nicholson, founder and CEO of VivaCity. "In particular, our AI for Detection technology has the power to support bus service improvements and identify groups of pedestrians, and can make a real, measurable impact on network performance.
"As part of our Smart Signal Control technology offering, AI for Detection has already proven to make cities safer, working alongside our new Near Miss feature. Witnessing the positive impact that VivaCity technology has had on towns and cities makes us excited about rolling out our latest signalling technology to more areas, such as Sheffield so that they too can optimise signal performance and support active travel and decarbonisation initiatives."