A new, live webinar, being hosted by TTi next week (Tuesday, January 24, 4pm GMT) in association with Wejo, will inform participants of the best ways to secure funding for transportation projects, by using the latest connected vehicle data.
Against the backdrop of the USA's once-in-a-generation funding round kickstarted by the Biden administration's Infrastructure and Investment Jobs Act (IIJA), experts in the Unlock Future Funding webinar will look at the ways in which existing transportation upgrades can be quickly and easily assessed using data that will provide solid evidence one which to base future grant applications.
One of the key experts in this discussion will be John Speed PE, a research engineer with the Texas A&M Transportation Institute (TTI). His current research addresses freight, autonomous vehicles, infrastructure investment and emerging uses of connected vehicle data.
Speed is well positioned to comment on transportation upgrades as his 37-year career as an engineer has encompassed high-profile roles including executive director of the Texas Board of Professional Engineers and as the Odessa District engineer for the Texas Department of Transportation (TxDOT).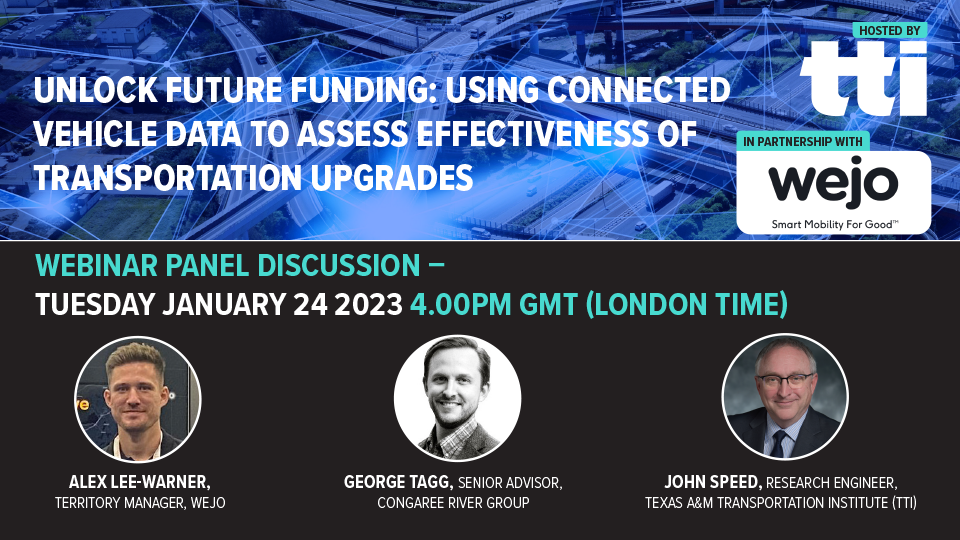 Speed will be joined by Wejo's senior advisor George Tagg and territory manager Alex Lee Warner. Tagg is a licensed attorney with a master's in international affairs and over 16 years' experience in the US Congress, Department of State, Department of Defense, and political campaigns.
Tagg has substantial expertise in global economics, energy, politics, and security, and he has received multiple public service awards and commendations for developing strategic initiatives and solving complex problems for numerous U.S. government agencies, private companies, and foreign governments.
Meanwhile Warner, who is based in Manchester, UK brings experience of working with DOTs, municipalities, cites, and universities to help them harness the power of connected-vehicle data.
The webinar will be hosted by long-time TTi editor Tom Stone. "I'm excited to hear about the smart ways in which connected vehicle data can be put to use in securing funding," says Stone. "In the USA right now the new Infrastructure Act means billions of new federal dollars are being made available to the right projects. However, there are also going to be some key learnings for viewers all around the world, who will be able to put the techniques they learn from this webinar to use wherever they are based."
The weinbar will also include the opportunity for live questions from the audience.