A new artificial intelligence (AI) technology developer and smart city solutions provider, Hayden AI Technologies Inc., has launched in California and announced the release of its new traffic safety application for smartphones.
Hayden AI creates smart city solutions purposely built for modern traffic conditions and increased urbanization. The company's team originates from the autonomous vehicle space with domain experience in deep learning, computer vision, and mapping. Hayden aims to reduce pedestrian fatalities and urban congestion, and suggests the solution is not just more traffic enforcement but smarter, scalable and more integrated enforcement. The company has created a platform called Smart Sense consisting of an intelligent camera, smart cloud, HD maps, and a web portal that can be accessed by city officials. In addition to collecting data that supports the enforcement of traffic laws, Hayden AI' s system collects rich data for cities to use in parking management, asset tracking, analysis of traffic patterns, kerbside management, identifying road and sidewalk hazards, and more.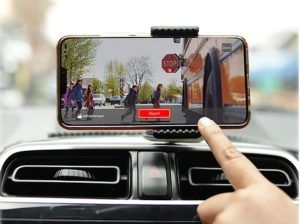 As part of its ambition, Hayden AI has announced that it will officially release the beta version of the new Safe Sense App for external testing in March. The app facilitates civic engagement in how it allows users to effortlessly report traffic safety violations such as the illegal passing of school bus stop-arms, running of red lights and stop signs, reckless driving, speeding, and more, all straight from a user's phone. By joining the Safe Sense network, citizens in cities across the world can help eliminate traffic fatalities and mitigate congestion through real-time reporting of dangerous driving behaviour. Created with the aim of putting urban safety back in the hands of its citizens, the Safe Sense App turns a mobile phone into an AI-powered dash cam that automatically detects traffic safety violations and reports them to city agencies, all while earning rewards for the user.
"Our antiquated roads are being choked by modern technology. There's no integration of the old ways and new, and sadly, it's not just a matter of being inconvenienced, as citizens are suffering. In the last 10 years alone, pedestrian fatalities in urban areas are up by 69%. We've asked ourselves, 'What can we do to reverse this trend? How can we mitigate congestion while saving lives?'", said Hayden's co-founder and CEO, Chris Carson. "We're really excited to release our technology to the public. Our Safe Sense App uses the camera on your mobile phone alongside machine learning algorithms to automatically collect real-time data to support the enforcement of traffic safety laws. This cost-effective and scalable approach empowers everyone with the tools needed to help improve traffic safety, eliminate traffic fatalities, and encourage transportation efficiency in their city."
Hayden's VP of engineering, Vaibhav Ghadiok, added, "Our mobile vision-based solutions utilize a city's existing transportation fleet to collect real-time data to support the enforcement of traffic laws. This cost-effective and scalable approach provides 100% coverage of the roads, thus drastically improving traffic safety, eliminating traffic fatalities, and encouraging transportation efficiency. The app also uses your mobile phone to create a radius around your vehicle where, if any other Safe Sense App reports a traffic violation within that radius, you'll get an alert on your phone. This gives you the chance to avoid danger while effortlessly helping your community to improve overall traffic safety."