Automotive tech company Harman, a subsidiary of Samsung, is using CES 2023 in Las Vegas this week (January 5-8) to showcase its new road-ready innovations that can deliver tangible benefits drivers, passengers, and other road users.
The Harman Explore showcase features live demonstrations of new technologies that will impact drivers and pedestrians, helping to improve safety, wellbeing and entertainment experience.
"From leveraging real-time data to improve safety to infusing consumer electronics innovations into the cabin, we'll demonstrate how thoughtfully applied technology can transform vehicles from simple transportation into vehicles that connect our digital and physical lives — today as opposed to years from now," says Christian Sobottka, president of automotive at Harman International.
The solutions include Harman Ready Care, an industry-first closed-loop interior-sensing product that measures a driver's eye activity, cognitive load and vital signs to determine the level of focus and attention on the road ahead.
Using neuroscience, artificial intelligence and machine learning, Ready Care classifies a driver's behaviour into a focused versus distracted state and initiates a personalised in-cabin response to help mitigate dangerous driving situations such as stress, anxiety, distraction, and drowsiness.
Ready Care now also incorporates additional in-cabin sensors that offer child presence detection and contactless measurement of human vitals such as heart rate, breathing rate and inter-beat levels to determine a driver's state of wellbeing.
Meanwhile, Harman Ready Vision provides an immersive audio-visual experience to assist the driver and create a safer and more informed journey with its Augmented Reality (AR) head-up display hardware and AR software.
Ready Vision provides OEMs with an end-to-end product that combines a wedgeless display with a large field of view, directional audio alerts, and AR technology to serve the right content, at the right time, with the right level of visual detail. As a result, drivers are empowered with the optimal level of information that helps them focus on the road ahead.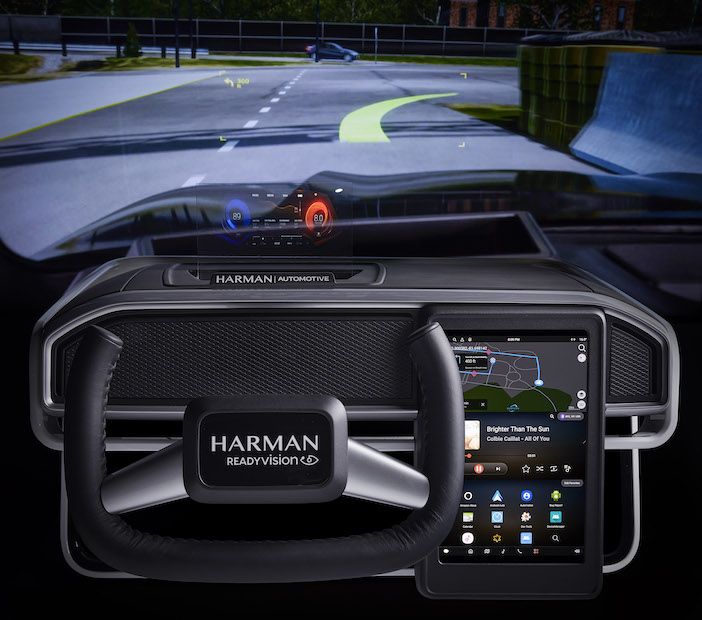 Further innovations can be found in Harman's Sound and Vibration Sensor and External Microphone products, which allow for a variety of applications to enhance safety and user experience, from detecting emergency vehicle sirens to listening for exterior speech commands from drivers or traffic controllers to detecting glass breakage or vehicle impact.
The Sound and Vibration Sensor can be invisibly integrated into a vehicle's exterior while the External Microphone has been designed to withstand environmental elements and can be configured as a single element or multi-element array.
Enhanced communication possibilities for drivers, passengers, emergency vehicles and other vehicles on the road are all enabled by external microphones and sensors, which enable greater ease of use, safer interactions and new vehicle features for EVs and autonomous vehicles of today and tomorrow.
Attendees can experience live demonstrations of these products and more at the Harman Explore 2023 Showcase in the Virgin Hotel, Las Vegeas, on 4-7 January, where experts will be on hand to answer any questions.
"The consumerisation of automotive has rapidly and drastically changed expectations for what vehicles today need to deliver," says Sobottka. "We all expect our vehicles to become an extension of our digital lives and deliver the same connected experiences we enjoy at home, at work, and everywhere in between. At the Harman Explore showcase during CES 2023, we're excited to show our latest innovations that are built with consumer experiences in mind, at automotive grade."