CAVForth, a fully autonomous bus service between Fife and Edinburgh in Scotland, has won the headline Vehicle of the Year prize at the inaugural Self-driving Industry Awards held in Margate, UK, last week.
Project CAVForth is a fleet of five single-decker, low-emission Stagecoach buses which have been taking fares in Scotland daily since May, giving tens of thousands of passengers their first taste of self-driving public transport. The buses operate with a safety driver at SAE Level 4 on journeys across the iconic Forth Road Bridge.
Presented by Carsofthefuture.co.uk, the Self-driving Industry Awards celebrate excellence in connected and automated mobility (CAM) in the UK and internationally. Peer recognition played a vital role, with all entrants gaining the right to nominate individuals and vehicles for the top honours.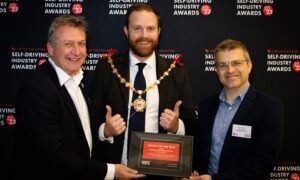 Carsofthefuture.co.uk editor, Neil Kennett, said: "Self-driving is about to completely revolutionize how people and goods move. The tech is already about as safe as the average human driver, and it's only going to get better.
"From a UK perspective, following the King's Speech [which announced a new Automated Vehicles Bill], we've got an incredible opportunity to define a successful, safety-first approach to rollout. In stark contrast to the robotaxi controversy in California, we are seen as a trusted leader in self-driving, widely recognised as the best place to test," Kennett added.
Traffic Technology International recently spoke with the team behind Project CAVForth to find out more about the "world first" project. This feature was originally published in the September 2023 edition of TTi magazine.