Global infrastructure consultancy HNTB Corporation is highlighting its role in the SR 99 Tunnel Project underneath Seattle, which the Washington State Department of Transportation (WSDOT) officially opened last weekend.
Seattle's new SR 99 tunnel forms part of the Alaskan Way Viaduct Replacement program, one of the largest infrastructure projects in the USA. The SR 99 design-build project was led by Seattle Tunnel Partners, a joint venture between Dragados USA and Tutor Perini.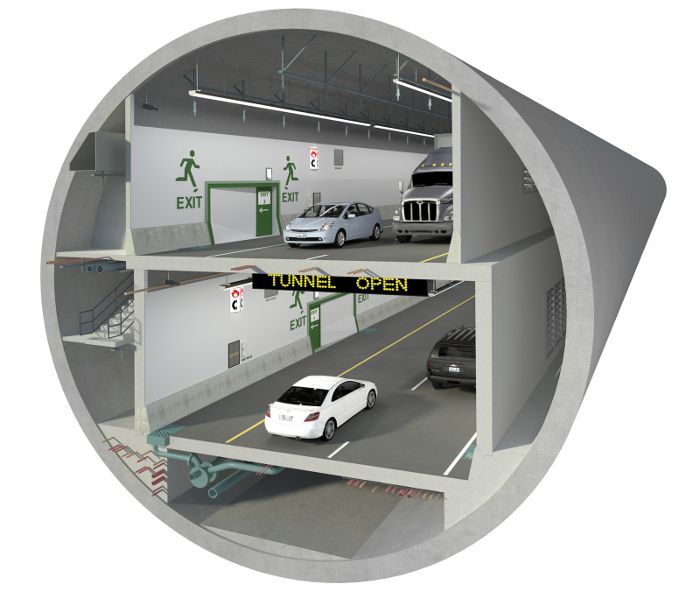 Serving as lead designer and engineer of record for the complex project, HNTB was responsible for design of the 2 mile-long (3.2km) bored mega-tunnel. The firm designed the permanent structures and facilities, including the tunnel liner, the interior stacked roadway structure, approach cut-and-cover tunnels, approach roadways and operations buildings located at each portal.
The 57.5ft (17.5m) diameter tunnel boring machine (TBM) was built by Hitachi Zosen of Japan. Known as 'Bertha' (top), it was the world's largest diameter earth pressure balance TBM. Bertha bored under 157 buildings in the core of Seattle, as well as bridges, a railroad tunnel and several large sewers, at depths of more than 200ft (61m).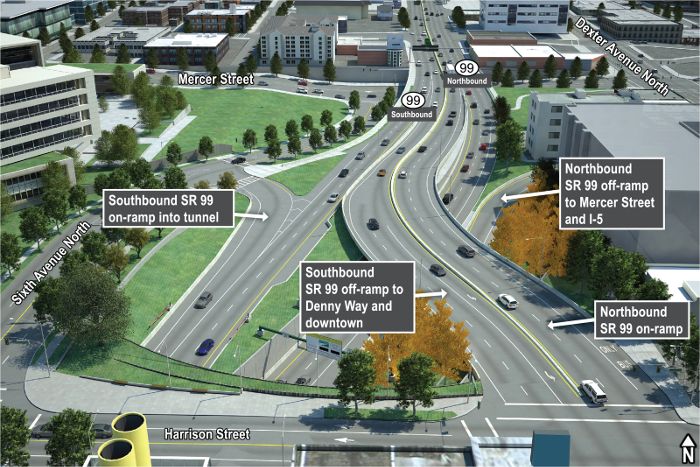 The massive tunnel includes stacked 32ft-wide (9.7m) roadways that carry two southbound lanes atop two northbound lanes. It features state-of-the-art ventilation, fire detection and suppression systems, an emergency egress system with its own ventilation system, and a security system with closed-circuit TVs. It also includes a fully equipped intelligent transportation system (ITS) with variable message signs (VMS) to keep drivers informed.
"Completing the tunnel marks an important milestone in national transportation history," said Brian Russell, HNTB's project manager. "Through tireless collaborative efforts and thorough application of technical excellence and best contracting practices, this project proved that tunneling beneath a dense urban environment is possible, setting the stage for other cities to do the same."
HNTB's Northwest Division president, Jim Thomson, noted, "The SR 99 tunnel will have a profoundly positive effect on Seattle. From a mobility perspective, the tunnel creates a convenient and efficient north-south passage, and from a real estate perspective, it will be instrumental in transforming the downtown waterfront, making it a much more residential, commercial and tourist-friendly environment. We would like to congratulate WSDOT and the people of Seattle on the completion of this transformative tunnel."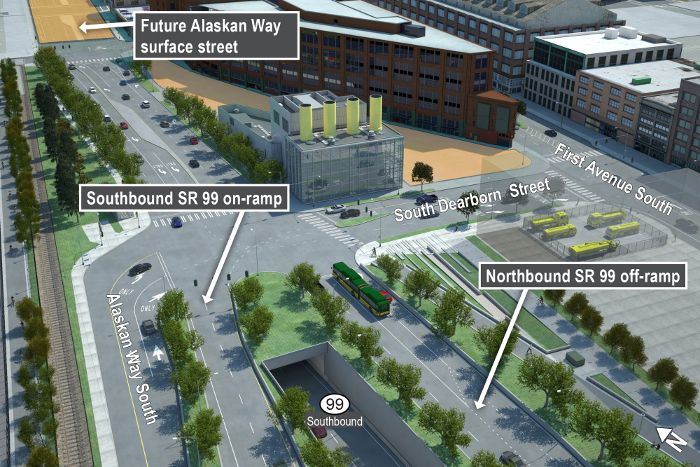 Sanja Zlatanic, HNTB senior vice president and national tunnel practice chair, added, "The tunnel and underground team at HNTB is extremely proud of the work done on the SR 99 tunnel. The tunnel's innovative design solution benefitted from significant developments in the mechanized tunneling industry over the past two decades. I am sure it would be used as a cornerstone for future advancements and creative tunneling solutions beneath densely populated cities across the nation and worldwide."
WSDOT's transportation secretary, Roger Millar, commented, "This is a game changer. Our number one goal was to remove a vulnerable structure from our highway system. Along the way we reshaped a major transportation corridor that is a key component of the multimodal transportation system we and our partners are building for the Puget Sound region."