Multinational technology and e-commerce giant Amazon has launched a new 'skill' for its Alexa virtual assistant that ties voice interaction with open travel data provided by a public transportation agency.
Just as social media outlets such as Facebook and Twitter have become essential components of transportation agencies' communications plans, it is expected that voice recognition and interaction will play a large role in the near future. Express lanes and high-occupancy toll (HOT) lanes and roads are becoming increasingly prevalent across the USA, and one such roadway is Interstate 66 in Northern Virginia, running from the Interstate 495 Beltway to Washington, DC. The tolls are highly variable, and commuters must decide whether to pay the current toll, change their travel time or mode, or take an alternate route. A new Alexa Skill now provides real-time toll information so that commuters can make a more informed decision.
Similar to smartphone apps, Alexa 'skills' are additional functionality developed by third-party vendors, such as weather programs and audio features. The new Alexa skill, 'Sixty Six Tolls', provides the current toll rate between any inbound or outbound entrance and exit, and can also provide the current travel speeds on I-66 and an alternate route, US Route 50, inside the beltway. The skill works on any Alexa-enabled device. To use it, users must first enable it by saying 'Enable Sixty Six Tolls'. Then, when they want to use it, they just say 'Open Sixty Six Tolls'.
The information for the skill is obtained from the Virginia Department of Transportation (VDOT). SmarterRoads is a free data portal that VDOT uses to provide automated access to over 24 data sets, ranging from annual safety statistics to the second-by-second status of each traffic signal. One of the data sets provides the current toll rates for I-66 inside the Beltway. Travel speeds are obtained from VDOT's 511 traveler information website. VDOT provides this information so that industry, entrepreneurs and the general public can add value and develop new and improved products as well as conduct research.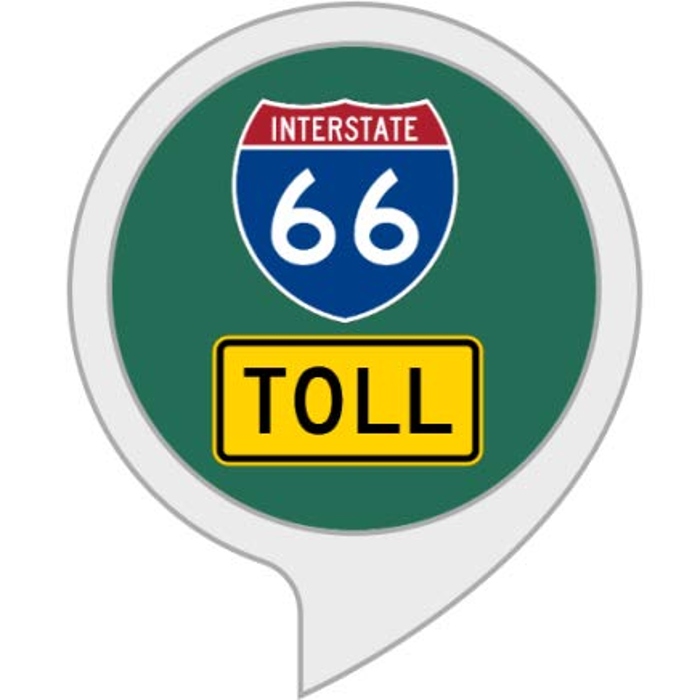 Sixty Six Tolls is one of over 15,000 skills that have been developed for the Alexa voice service, and smart speakers are becoming more and more common across the USA. It has been estimated that over 25% of Americans own a smart speaker, and that this number will rise to 55% by 2022. Both aftermarket companies and auto makers are integrating these systems into their vehicles to provide hands-free information. Traffic and traveler information is a natural service for these systems to provide.
"The skill uses the open data that VDOT makes available through their SmarterRoads portal," said developer Mike McGurrin. "While the toll may change between checking the cost at home and the time a driver reaches their entrance, it's still useful to have an idea of the highly variable toll, especially since tolls for the entire 10-mile (16km) length have sometimes spiked at over US$40. As Alexa is integrated into new cars, the skill will be accessible by voice while en-route. To add convenience and minimize distractions, users can also save their most frequent inbound and outbound entrances and exits to make it even easier to use the skill."