One of the leaders in big data analytics for the transportation industry, StreetLight Data Inc., has released accurate 2018 Annual Average Daily Traffic (AADT) counts for nearly every road in the USA on its InSight platform.
With federal requirements put in place by the USA's Moving Ahead for Progress in the 21st Century Act (MAP-21), local and state government agencies must increase reporting of performance metrics for planning and funding allocation. This has increased the need for quick, easy, dynamic and cost-effective AADT measurements.
Providing accurate, on-demand traffic volumes for over four million miles (6.4m km) of roadway, the company's AADT numbers enable the development of smarter cities and better infrastructure planning decisions. Produce by StreetLight in record time, comprehensive 2018 AADT metrics are now available in the first quarter of 2019, in time to inform critical infrastructure and funding decisions.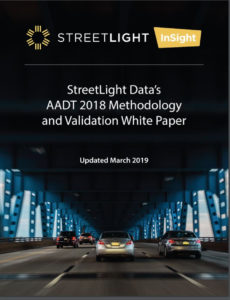 AADT is a critical measurement for transportation planners and engineers analyzing infrastructure projects, estimating road safety or seeking highway funds. Historically, AADT counts have been measured manually and at high cost. From getting approval, to training staff, collecting traffic counts, and validating the data, deriving just a few thousand counts can take months and cost hundreds of thousands of dollars.
Based on over 60 billion monthly location records across the country, collected from over 65 million smartphones, connected cars and trucks, StreetLight's algorithms draw on 365 days of data for the vast majority of the USA's roads.
Available for both urban and rural roads, large or small, the company's 2018 AADT counts outperform industry-standard accuracy targets, with the results confirmed in StreetLight's just-published 2018 AADT Methodology and Validation white paper.
The study examined the company's 2018 AADT for test data compared to permanent counter AADT statistics at 2,527 locations across the USA. Both absolute and root mean square error rates exceeded industry targets. With the company's Insight Software as a Service (SaaS) platform, counts can be queried for accurate AADT on demand for nearly all the country's road network, and even in complex cases, results can be delivered in minutes.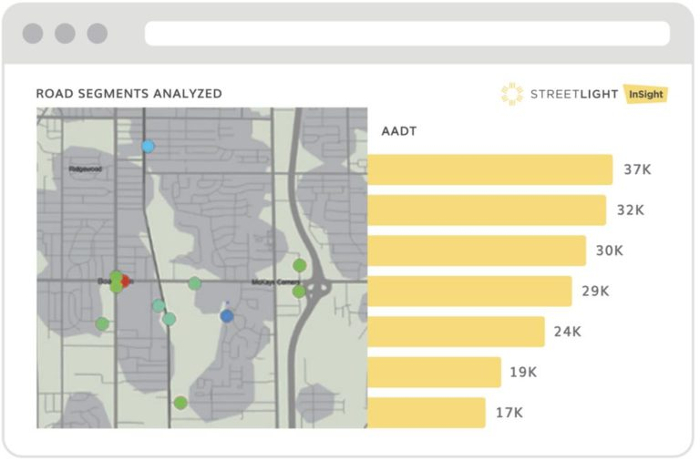 "Our mission is to help planners, states, counties and cities make better, faster and more cost-effective data-driven decisions," said Laura Schewel (top), CEO and co-founder of StreetLight Data. "With the 2018 AADT release we have measured and analyzed the movements of millions of vehicles for all 365 days, across nearly every mile of US roadway. Best of all, we are able to bring those complete datasets to the people who need 2018 counts faster than ever before."
Schewel told Traffic Technology Today that the company had found an additional advantage for agencies using the AADT data. She said, "I've been struck by how many of our clients value avoiding sending staff out to stand by dangerous roads, getting temporary counts. That's a safety benefit we didn't expect when we began this process."
To download the AADT white paper, go to: www.streetlightdata.com/aadt