ECCO Safety Group (ESG), which includes the industry-leading Code 3 brand that manufactures lighting and safety solutions for emergency vehicles, has announced the official market launch of its innovative Connected Safety Solution powered by the HAAS Alert Safety Cloud.
Each year there are an estimated 60,000 accidents involving emergency vehicles in the USA. First responders face an increased risk of injury of death on-route to a call than at the scene itself. According to data from the NHTSA and the US Fire Administration (USFA), fire truck accidents are the second leading cause of on-the-job deaths for firefighters. The NHTSA also analyzed data from 1992 to 2104 and found that each year, the country averages 29 fatal crashes involving an ambulance. Despite modern emergency vehicles having brighter LED lights and louder sirens, these alone are not enough to get the attention of often distracted drivers. However, with new innovations in mobile and cloud technology, motorists now have enhanced capabilities to receive advanced warnings and urgent road hazard information.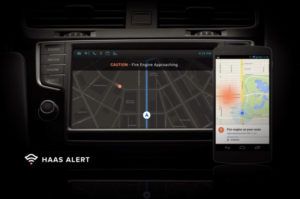 On October 22, four days prior to the International Association of Chiefs of Police Conference in Chicago, Code 3 and HAAS Alert will host a live webinar to introduce the new safety technology to public safety agencies across the USA. This webinar will demonstrate how Code 3's emergency lighting systems integrated with HAAS Alert's Safety Cloud can reduce collisions between motorists and first responders. Chicago-based startup HAAS Alert's collision prevention technology paired with Code 3's lineup of reliable lighting and safety solutions, including its flagship Matrix system, sends digital alerts that warn drivers of nearby public safety vehicles responding to an emergency. Drivers are notified through the Waze app on their mobile devices, Apple CarPlay, Android Auto, or compatible vehicle infotainment systems.
"Code 3 is a vital partner in our mission to improve drivers' situational awareness. The number of first responder fatalities and injuries in 2019 due to collisions with other vehicles is alarming and shows no signs of slowing down," said HAS Alert's co-founder and CEO, Cory Hohs. "As a company committed to making our roads safer for everyone, we are excited to work with an innovator like Code 3 to bring our digital safety service to more emergency response and fleet vehicles."
Doug Phillips, president and CEO of ESG, said, "Code 3 is all about innovating safety solutions for our first responders. By adding HAAS Alert collision prevention technology to our market-leading vehicle lighting solutions, our customers and civilians using the Waze app will have an extended layer of safety and security."