The Queensland Police Service in Australia will use the latest drone technology to dramatically reduce the impact of major traffic incidents and save the state millions of dollars in lost time and productivity.
The Queensland Police's Forensic Crash Unit Aerial Mapping Project has demonstrated that using the latest drone technology it can cut crash scene mapping times in half; a considerable saving in resources. It was estimated that in one year, congestion caused by traffic incidents on Brisbane roads cost the community A$23m (US$15.7m) in lost time and productivity. One contributing factor to the time for road closure during traffic incidents was scene mapping by investigating officers of the Police's Forensic Crash Unit. As a consequence, the project was set up to evaluate the benefits of using drone technology to map crash scenes.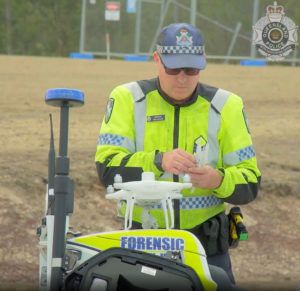 So far, the results of the test program have been impressive. The Project Team conducted trials this year using the very latest drone technology, to reduce scene mapping time by approximately 50% thereby significantly reducing road closure times. Other benefits include a significant improvement in the quality and accuracy of evidence captured at the scene, with implementation being no more than current mapping methods. The Forensic Crash Unit has now deployed four operational drones with eight fully-qualified police drone pilots in South East Queensland. To further speed-up mapping operations, the drones are transported to crash sites on motorcycles to avoid traffic tailbacks, with riders piloting them within minutes of their arrival at the scene.
"The implementation of this innovative drone technology is a win-win-win. Roads closed for a shorter period, better evidence, and no increase in cost," said Queensland Police Minister, Mark Ryan. "This innovative approach to policing is why the Queensland Police Service is rightly regarded internationally as a world class operation. They are always looking to technology to provide better outcomes for the community. This has been a thoroughly researched project and included consultation with key stakeholders to develop procedures and policies for the effective and safe deployment of the drone technology on motorways, highways and major arterial roads and its subsequent admissibility in court."
To watch a video of how the system works, click HERE