Smart sensors are being trialed in Cambridge in the UK to make it safer for people to cross the road thanks to the use of AI to reduce waiting times for pedestrians and road users.
The advanced camera-based technology identifies different user types so it can learn to predict when people will want to cross the road. Linked smart signals could then adjust automatically based on the amount of traffic and the number of pedestrians who want to cross at a particular location to keep people moving.
This innovative collaboration between Starling Technology and the Greater Cambridge Partnership (GCP), with support from Cambridgeshire County Council's (CCC) traffic signals team, is being trialed at East Road in the city to make it easier and safer for people to move around the city.
Dan Clarke, GCP's head of innovation and technology, said, "This is an exciting piece of work that aims to cement Greater Cambridge as a leading city for innovation, research, and technology. This will help us to build on the innovative work already being delivered in the area by trialing new signals technology so that those cycling and walking have safer, quicker, and more enjoyable journeys through the city."
Andrew Caleya Chetty, CEO of Starling Technology, added, "We are delighted to be trialing our products in Greater Cambridge, where walking and cycling are embedded in the city's culture. Our passion is to improve safety for pedestrians and cyclists and ensure that technology works for the benefit of all.
"For Active Travel to have an impact on how the city moves around and to enable Cambridge to get to net zero, alternative travel networks need to be available and safe. Starling's mission is to enable new safe transport networks throughout Cambridge," he added.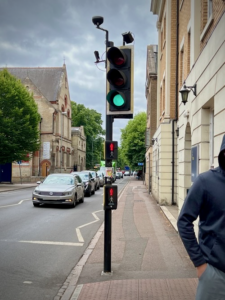 Having a better understanding of how pedestrians move through signal-controlled crossings and how their movements interact with cyclists and motorists on the road network is key to trying to smooth the flow of traffic across the city, GCP noted.
By detecting and predicting user behavior, the sensors could in future be used to change the demands for crossings further along the road and to flexibly manage the green pedestrian signal timings at times of peak demand which could help to improve traffic flow by giving priority and additional crossing time to large groups and vulnerable users.
The sensors will be able to monitor if there is a risk of too many people blocking the pavement. The sensors would then send a message to reduce the time until the green pedestrian signal occurs, to minimize disruption to gathering pedestrians on the footway and prevent other people having to walk in the road to bypass a blocked path.
The sensors can also detect cyclists and so will be included in any data shared with the GCP and CCC transport teams to help inform future decision making and provide a deeper analysis of the impact to the transport network of any changes to signal timings.