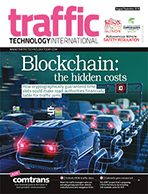 The August/September 2018 issue is now available online! Packed full of news, interviews and features, including:
BLOCKCHAIN: THE HIDDEN COSTS Blockchain-enabled 'smart contracts' could give road users the ability to book slots with guaranteed arrival times. But will authorities be financially liable if such systems fail? And what else should traffic managers be preparing for in this ongoing data revolution?
GREEN CITY : Carlos Braceras, What makes Copenhagen such a perfect place to host the ITS World Congress? Saul Wordsworth looks at some of the transportation innovations helping to make the Danish capital one of the smartest – and most environmentally friendly – cities in the world, and provides a taster of the highlights to look forward to at the 25th anniversary event.
ROADS TO SUCCESS : Using IBTTA's Toll Excellence Awards are one of the highlights of the organization's Annual Meeting. The winners showcase the very best in tolling innovation and provide inspiration for the global industry. Jack Roper reports on this year's success stories