Vinci Highways, a division of the French road concessions and construction company, has been awarded a new management contract for free-flow tolling transactions and customer services on the M50 Dublin ring road in the Republic of Ireland.
Transport Infrastructure Ireland (TII), the state agency in charge of roads and railways infrastructure in the Republic of Ireland, has signed an 11-year US$419m (€373m) contract with Turas, a joint venture (JV) comprising Vinci Highways, a subsidiary of Vinci Concessions, and Abtran, the largest Irish-owned business process management provider, to manage free-flow tolling transaction services and customer relations on the Dublin ring road. Carrying an average of 145.000 vehicles each day, the M50 motorway is the most heavily trafficked corridor on Ireland's national roads network.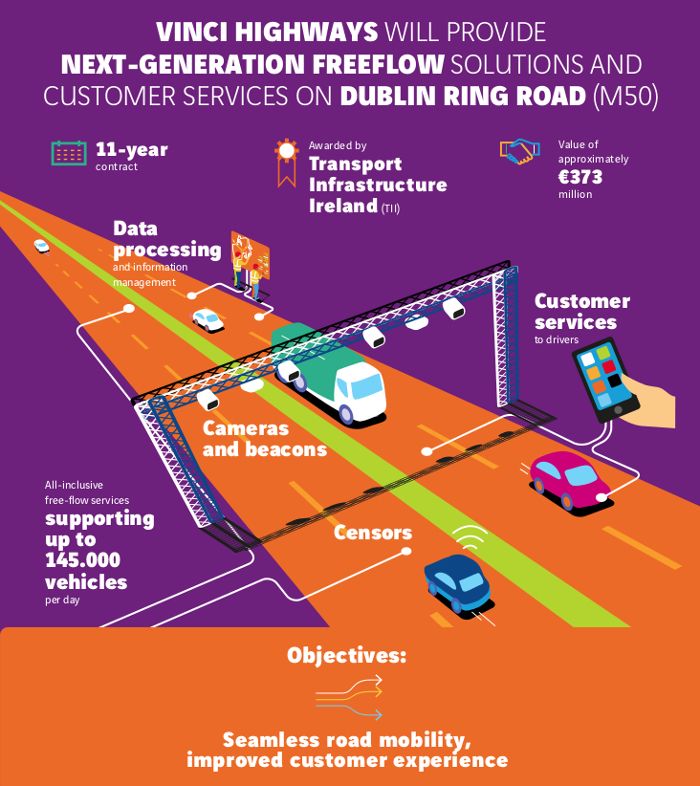 Vinci Highways and Abtran will combine their expertise to deliver a complete service covering all technology, systems and operations to support free-flow tolling transactions, payment collection and transmission to the state agency TII. The contract includes installing and operating a new gantry system with sensors to detect incoming vehicles, cameras and beacons for reading plates and tags. It also includes the design, implementation and management of a new back-office platform with data processing and information management capabilities to facilitate transactions. Implemented by Vinci Highways' subsidiary TollPlus, the new back-office system will allow TII to better meet current demands, and effectively handle projected future growth in transaction volume.
Vinci Highways and its partner Abtran will also provide customer services to drivers by optimizing processes and performance of a global communications platform that includes a contact center and various digital interfaces. To develop the number of e-subscribers, Vinci Highways and Abtran, alongside TII, will also develop new Mobility as a Service (MaaS) schemes, increasing customers' convenience while meeting the urban challenges of the fast-growing Irish capital.
The new contract marks Vinci Concessions' first project in the Republic of Ireland and demonstrates its capacity to expand its international outreach. Vinci Highways designs, finances, builds and operates highways, urban networks, bridges and tunnels, technological platforms and customer services facilities in 14 countries worldwide. The company's highway network spans over 2,050 miles (3,300km) globally and handles about 469 million vehicles per year.