Canadian company International Road Dynamics Inc. (IRD) has been awarded two contracts for weigh-in-motion (WIM) and truck screening systems that will be deployed at ports of entry (POEs) in South Dakota and Arizona.
IRD has received a US$1.35m contract from BX Civil & Construction Inc. to supply, install and maintain a WIM Sorting System at the Valley Springs POE on Interstate 90 east of Sioux Falls, South Dakota, with installation to be completed by December 2019.
The project is the sixth POE WIM system to be supplied by IRD, as South Dakota Department of Transportation (SDDOT) continues the deployment of additional systems throughout the state. The POE Commercial Vehicle WIM Sorting System protects highway infrastructure by weighing all commercial vehicles, capturing license plate numbers, and directing suspected violators to report to the Truck Inspection Station.
Using IRD's Single-Load-Cell (SLC) WIM and intelligent Roadside Operation Credentialing (iROC) system with automated license plate reader (ALPR) technology, commercial vehicles are automatically identified, and their safety, operating authority and credentials are verified, while confirming compliance with weight regulations.
The Valley Springs project is the first site in South Dakota to include the company's Tire Anomaly and Classification System (TACS) to identify vehicles that are unsafe due to missing, mismatched, or underinflated tires. The IRD-supplied Infrared Inspection System will also provide additional vehicle screening capabilities using thermal imagery to automatically detect the condition of brakes. These innovative technologies improve highway safety and provide efficient enforcement of commercial vehicles.
"We are pleased to have been awarded this new contract, and to provide South Dakota DOT with a Commercial Vehicle Sorting System that includes the latest screening technologies including the ability to detect tire anomalies," commented Randy Hanson, IRD's president and CEO.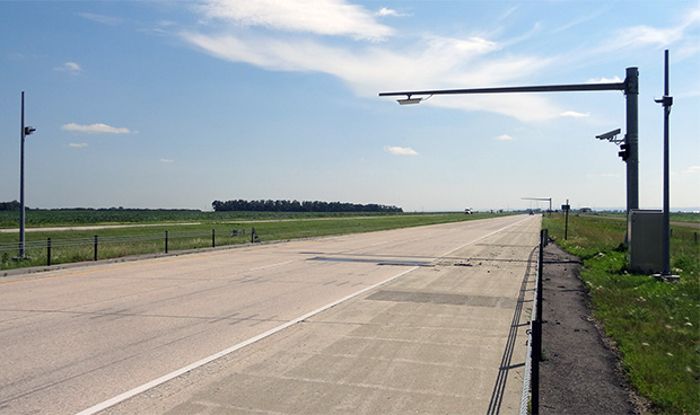 "In addition to making the station more efficient, South Dakota's roadway infrastructure will be better protected from truck overloading, traffic safety will be improved, and weight enforcement will be enhanced."
IRD has also been awarded a US$2.8m contract by Roadway Electric LLC to supply and maintain a Statewide POE Truck Screening System as part of a design-build project for the Arizona Department of Transportation (ADOT).
IRD will supply and supervise the installation of the Truck Screening System at five locations throughout the state including Ehrenberg, Topock, Sanders, San Simon and Parker weigh stations, and will then maintain the systems for five years.
Four of the five locations already use the company's mainline WIM sorting equipment, and new system with electronic screening capabilities will be installed at the Parker POE. The project will add electronic screening capabilities to the existing systems with the addition of ALPR and Automated USDOT Number Readers (UNR). IRD's TACS equipment will also be installed at select sites to identify trucks that are unsafe due to missing or underinflated tires.
The Truck Screening Systems will allow ADOT's Enforcement and Compliance Division to screen, inspect and process trucks efficiently and accurately. The project also includes the supply of Central Data Management Software (CDMS), which provides a suite of specialized applications that enable centralized management and reporting on the performance of the state-wide system. The CDMS includes IRD's Vehicle Information-in-Motion (VI2M) web-based central data repository and reporting system.