The Canadian Ministry of Transport has awarded a US$1m (C$1.3m) contract to cybersecurity specialist ESCRYPT to advance the development of a Canadian Security Credential Management System (SCMS) for connected vehicles (CVs).  
The Government of Canada is supporting innovation that will help to create the country's future transportation system, with Transport Canada's program to Advance Connectivity and Automation in the Transportation System (ACATS) currently helping jurisdictions prepare for the arrival of connected and automated vehicles (CAVs).

The widespread use of CVs is expected to improve the safety and efficiency of road transportation by enabling vehicles to communicate with smart infrastructure, such as traffic signals, rail crossings and signage, through V2I systems, and other road users, including pedestrians, motorcyclists and cyclists, through V2X technologies. Transport Canada sees potential applications to include:
Traffic signal priority for emergency response vehicles, such as ambulances, police, and fire trucks;
Real-time road condition advisories to warn drivers about potential hazards, like slippery surfaces, accidents, or construction; and
Warnings to advise commercial truck drivers about bicyclists, pedestrians and motorcyclists.
The SCMS will help ensure that CV communications are secure and can be trusted. The SCMS incorporates privacy-by-design principles, and enables communication without revealing personal information about the vehicle or the driver. As part of the contract, ESCRYPT will be responsible for developing Canadian requirements for the system, and recommending an operational model for how the technology may be deployed in the country.
Outcomes of this work will be an important element of the department's forthcoming cybersecurity guidance, a signature initiative under Canada's Safety Framework for Automated and Connected Vehicles, and ultimately a key feature of the regulatory regime moving forward. Headquartered in Germany, with branch offices in Canada and nine other countries, ESCRYPT is a leading system provider for embedded IT security.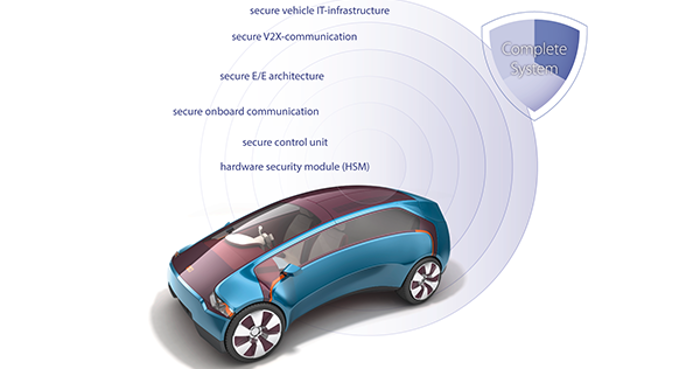 The five-year US$7.9m (C$10.5m) ACATS program is helping Canadian jurisdictions prepare for the technical, regulatory and policy issues emerging as a result of CAVs. The initiative is also providing up to US$2.2m (C$2.9m) in grant and contribution funding over four years to support 15 Canadian CAV demonstration and research projects.
One of these projects is with the University of Alberta, in partnership with ESCRYPT, which will integrate an SCMS instance into the ACTIVE connected vehicle testbed, located in Edmonton. The project will help testbed partners understand and prepare for the security and privacy aspects of CVs. The outcomes of this project will contribute to Transport Canada's approach on cybersecurity, as well as managing the safety and security of CAVs.
"Connected and automated vehicle technologies have immense potential, and will have a tremendous impact on our transportation system," noted Marc Garneau, Canada's Minister of Transport. "We have to ensure that Canada has a system in place to enable these vehicles to communicate securely, while protecting the privacy of Canadians, so that they can have confidence in the transportation system of tomorrow."
David MacFarlane, general manager of ESCRYPT's Canadian branch, commented, "We are trusted by auto makers, Tier 1 suppliers, and government organizations to provide security technology and expertise for connected vehicles. We are proud to be selected by the Government of Canada to help set their direction for secure vehicle-to-anything communications."