The National Association of City Transportation Officials (NACTO) has released a new manual on the best practices for next-generation intersection designs that save lives and make walking and biking more comfortable for people of all ages and abilities.
Representing 71 major cities in North America, NACTO's new guidance, 'Don't Give Up at the Intersection', expands on the organization's groundbreaking 'Urban Bikeway Design Guide' with new diagrams detailing intersection design treatments and signal strategies that reduce vehicle-bike and vehicle-pedestrian conflicts. Funded by Knight Foundation, the guidance uses three principles to enhance safety at the intersection, where conflicts between street users are most frequent:
Reduce turning speeds – Drivers yield more frequently to people walking and biking when speeds are low. Lower speeds give drivers more time to stop if needed, and reduce the severity of collisions when they occur;
Make bikes and pedestrians visible – Setting back the bikeway crossing, installing recessed (early) stop lines for motor vehicles, and building raised bikeway crossings all make it easier for drivers to see people using the bikeway or the sidewalk;
Give bikes the right of way – People on bikes crossing a busy intersection need clear priority over turning motor vehicles. Signal phasing strategies including leading bike intervals, bike scrambles, and protective-permissive signals reduce conflicts and enhance the safety of bikes at the intersection.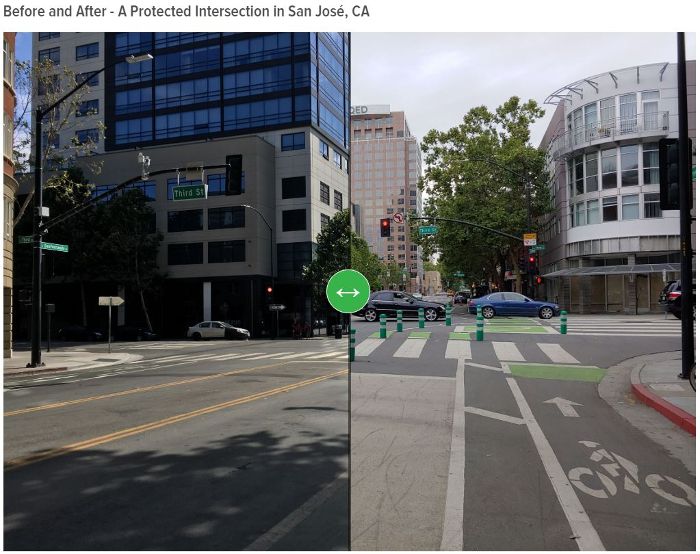 The design guide includes diagrams showing best practices for:
Protected intersections, which keep bicycles physically separate from motor vehicles up until the intersection, with greatly reduced crossing distances, improved sightlines, and dramatically safer results on the streets where they have been installed;
Dedicated intersections, which give people on bikes a dedicated path through intersections with corner wedges, pedestrian safety islands, and bike signal phasing;
Minor street crossings, where compact corners, raised crossings, and clear approach sightlines can be used to encourage drivers to yield to people in the bikeway or the crosswalk.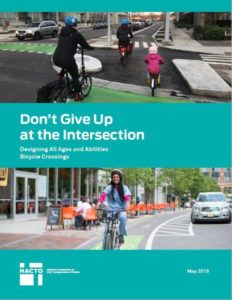 The guidance also details signal phasing strategies that enhance safety, while maintaining or improving street capacity and compliance on all modes. Best practices covered include implementation strategies, from quick-build to permanent techniques, allowing cities to rapidly design and implement projects and make changes before casting designs permanently in concrete.
"Our cities are facing the urgent task of reducing greenhouse gas emissions from transportation, and making biking safer and more comfortable is key to a climate-positive future," said Corinne Kisner, NACTO's executive director. "People will bike if they have safe places in which to do so. Making intersections safer is essential for creating inviting bike networks for people of all ages, backgrounds, and abilities."
Kate Fillin-Yeh, NACTO's director of strategy, added, "A bike lane is only as good as its weakest intersection. Our newest guidance product helps officials, planners, and engineers design safe, comfortable facilities at the most difficult points."
John Ristow, San José's director of transportation, commented, "NACTO publications have been enormously helpful for us as we have improved the safety and comfort of our streets in recent years. The new intersection guidance is a welcome addition as cities make those crucial connections that turn better bikeways and sidewalks into cohesive networks."