The German city of Gütersloh has a new on-demand transit service thanks to a collaboration between Stadtbus and ViaVan.
"Shuttle – Holt dich ab" will complement existing Gütersloh bus routes, reaching areas not served and extending in geographic scope during the evening hours, and on Sundays and public holidays, so that the service can operate across the entire city to fill the gaps when traditional public transport is more limited.
The service is supported by funding from the State Ministry of Transport awarded to the City of Gütersloh to introduce an on-demand mobility offering booked through a mobile app.
The new offer from Stadtwerke Gütersloh GmbH is completely digital, powered by technology from ViaVan. The modern minibuses can be conveniently ordered on-demand through the "Shuttle – Holt dich ab" mobile app, available for iOS and Android.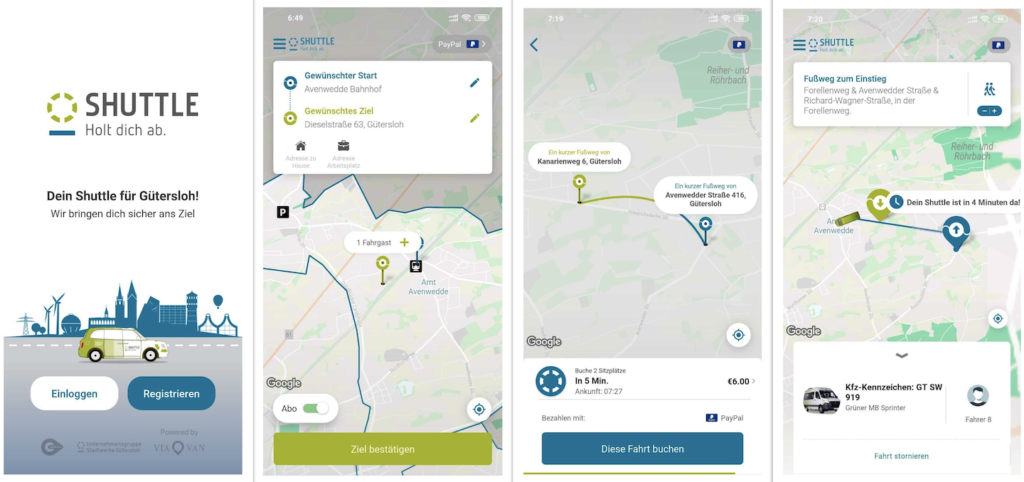 Passengers simply select their pickup and drop-off locations, are assigned to a vehicle, and, if the route is similar, ViaVan's algorithms will enable multiple passengers to seamlessly share a ride. This reduces detours, and maximizes utilization and environmentally-friendly mobility. Riders will be able to track their journey in real-time in the mobile app.
"With the introduction of a flexible shuttle service, we are rethinking mobility in Gütersloh. The principle of environmentally-friendly carpooling not only offers a positive incentive to share vehicles with other passengers, but is also an important lever for more efficiency in city traffic. But, that only works if we enable the individual to leave his or her car and transition comfortably, quickly, and easily. In this respect, 'Shuttle – Holt dich ab' closes an important gap in the offer between our city bus and private transport," explains Ralf Libuda, Stadtbus MD.
Rides cost 3 euros per passenger for those with a WestfalenTarif pass, and 4 euros for those without a transport pass. Payment will be available with PayPal, credit card, or prepaid debit cards directly through the mobile app. The vehicles are wheelchair-accessible and seat up to seven passengers. This ensures an attractive, shared, and congestion-reducing transport solution.
More information is available at www.shuttle-gt.de.