The Australian iMOVE Cooperative Research Center (CRC) consortium is launching its second Mobility as a Service (MaaS) project with a trial of an app-based multimodal transportation ecosystem in Sydney.
The aim of the iMOVE project is to advance the understanding of the role that MaaS can play in improving the travelers' experience of using multiple complementary transport services in terms of cost, travel time, convenience, health benefits, and perceived safety. The MaaS research will also contribute to improvements in broader community benefits, such as better air quality, reduced congestion, and greenhouse gas emission savings, by providing a convenient alternative to owning and using private vehicles. The participants in the iMOVE-led project are: IAG (Insurance Australia Group); the University of Sydney's Institute for Transport and Logistics Studies; and smart mobility app developers, SkedGo.
The trial will be situated in the Sydney region, which has an appropriate setting for several reasons: an extensive public transport system; many private transport services providers are currently operating there; and the setting, which enables the creation of comprehensive multimodal MaaS bundles.
In addition, public sector stakeholders in Sydney have shown an interest in new ways to improve the public transportation offering, such as through the flexible bus contract in Region 6, and the city already has an open data platform that will help in the process of aggregating numerous open and private data sources to provide insights and understanding of the travel behavior and infrastructure utilization within the city from the trial participants.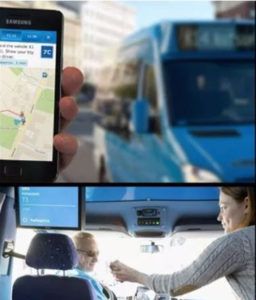 Using an app-based setting, the project will enroll volunteers in a six-month trial. Eligible participants, who work, live and travel in the Greater Sydney area will arrange their everyday travel needs through a MaaS smartphone app that will be a customized version of Skedgo's existing TripGo application linked to subscription plans. These will give participants access to all forms of public transport, including train, tram, ferry, and bus, as well as a large portfolio of car-based transportation services, such as taxi and car rental, Uber, Car Next Door, and GoGet.
The participants will be able to find, compare (in terms of cost, travel time, emissions and health benefits), book and pay for these services through the app, enabling them to perform multimodal journeys seamlessly from start to finish. The trial will explore the benefits of greater freedom of mobility for Sydney citizens through one app.
MaaS and Mobility-on-Demand (MOD) transport have increasing profile and interest in the Australian intelligent transportation systems (ITS) industry. The three main drivers for the Sydney pilot are: proof that digital devices and connectivity open new possibilities to improve transportation; that MaaS could improve and/or complement traditional public transport; and the current knowledge of appropriate mode mixes and subscription plans is limited in Australia and also globally.
The primary objectives of the project are: to design and test the implementation of transport service mixes and MaaS subscription plans for potential early adopters, offering a unified integrated solution for transportation services; and to document the experience in undertaking a trial as a way of informing future trials and full roll-outs of MaaS.