Following a highly competitive selection process, artificial intelligence developer (AI) Spark EV Technology has been chosen for the UK government-backed Intelligent Mobility (IM) Accelerator program.  
The prestigious program is designed to create UK leaders in the global transportation systems market, and will help Spark further commercialize its pioneering AI-based electric vehicle (EV) journey prediction software and provide it with access to paid proof-of-concept projects with sponsors such as Hyundai and Stagecoach.
The IM Accelerator, a partnership between Transport Systems Catapult (TSC) and Wayra UK, is designed to attract disruptive startups with high-growth potential into the UK transportation supply chain, while helping them grow into world-leading companies. It is based in Milton Keynes and selects a cohort of just six companies for each six-month program.
Spark's AI-based journey prediction software uses machine learning to help EVs and hybrids go further between charges using live data from the vehicle, driver and atmospherics. These more accurate predictions help overcome 'range anxiety' and therefore drive greater adoption of electric vehicles by both businesses and consumers.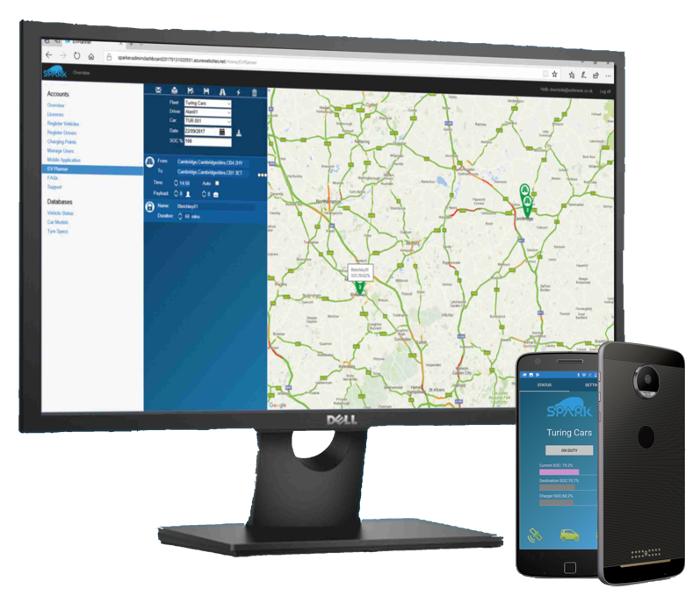 Spark will benefit from the expertise and support of Wayra, the world-leading startup accelerator that is part of Telefónica Open Future, and the TSC. This will include office space, mentoring and networking, access to the partners' networks of investors, government agencies, customers, large corporates and universities, as well as opportunities to work with the TSC's world-leading data, visualization, customer experience and connected and autonomous vehicle (CAV) capability teams.
Spark's aim is to accelerate plug-in hybrid and electric vehicle (PHEV/EV) adoption by removing range anxiety and increasing vehicle trust. The company's AI-powered range prediction checks a vehicle has enough energy to complete its next journey and adapts to individual drivers.
Using map data and live traffic, weather and vehicle data, Spark calculates the energy needed for a journey. The solution can be provided as an app, in the cloud or embedded into a satnav. Developed in Cambridge, Spark combines the company's own research with work from the University of Essex.
"The UK government has set out a clear strategy to deliver a zero-emissions transport future," explained Alex Weedon, director of SME strategy at the TSC. "That requires the industry to overcome factors such as range anxiety that hold back consumers and businesses from switching to electric vehicles.
"Spark's innovative technology is therefore perfectly placed to help increase EV adoption and we're excited about helping the team to accelerate its development to become a leader in intelligent mobility."
Gary Stewart, director of Wayra UK, noted, "The Intelligent Mobility program aims to nurture and scale-up the next generation of UK transport systems leaders, giving them the support they need to deliver data-driven solutions to the most pressing problems facing the world today.
"Spark's innovation helps meet the key goal of reducing transport emissions, by accelerating the adoption of electric vehicles through its innovative software. The whole team looks forward to working with Spark over the next six months."