At this week's ITS European Congress (May 22-24) Eric Sampson 'The Godfather of ITS Congresses' is to officially announce his retirement from ERTICO after over 30 years with the organization.
Sampson is the only senior figure in the industry who has attended every ITS World Congress since they first began in Paris in 1994. He has also been at many of the ITS European Congresses (this week's being the 15th) and attended many other ITS events all around the world, making him a familiar face to anyone who has been involved in deploying technology for surface transportation over the past three decades.
As a founding member of ERTICO – ITS Europe, the organizers behind this week's event, Sampson has a long view of the industry few can match. "After ERTICO was founded, there was great enthusiasm in establishing the first congress," recalls Sampson. "In 1992, as chair of the ERTICO supervisory board, I helped to begin the preparations for the first one in Paris two years later. I set up the first program committee with European representatives and ERTICO experts. It was also a great honour for me to act as master of ceremonies at the congress. I remember the long queues to register on that very first day and realised, 'it's really happening'."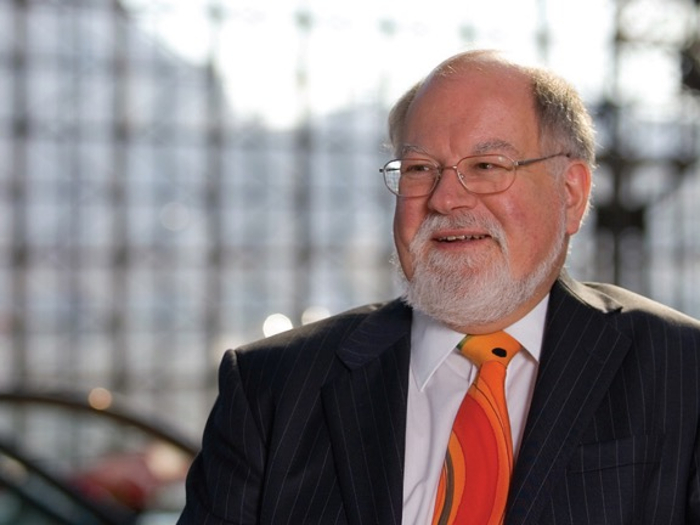 Over the years Sampson has taken charge of a huge a variety of projects at ERTICO, and now he is to step down from his current positions as senior program advisor and chief rapporteur, this second being a vital role in which he oversees the team who provide a summary of conference proceedings at each ITS event. "It has been a privilege and a pleasure working with ERTICO as advisor and as chief rapporteur, but it is time to share that with someone younger, so I'm handing it over to Wolfgang Hoefs."
Hoefs is special advisor for smart mobility and digitalisation at New Mobility Solutions Hamburg (formerly ITS Hamburg) and is expected to be attending the event in Lisbon.
Strong ties
Between all the hard work Sampson has become well known for his friendly good humour and wry wit. One the many lighter items he'll be remembered for is his flamboyant collection of neckties, created especially for each congress he has attended since Paris.
"It all started in Paris," recalls Sampson. "I bought a very bright and colourful tie before the congress, which was admired by the president of ITS Japan. I said I would send him a similar one, which I did, and later I received a beautifully calligraphed thank you letter from the Japan Embassy in London.
"Since then, I have commissioned a tie from my supplier Jane who paints them with motifs of the city where the congress takes place. They are wonderful souvenirs and reminders of the many congresses I have attended. One of my favourite ones is from Copenhagen, where the symbolic congress globe is used twice as cycle wheels. For the ITS European Congress in Lisbon, I will have two new ones…"
As well as revealing the final two ties in his unique congress collection Sampson promises to provide some 'final thoughts' to the attendees of the Lisbon event, as he passes the baton to the next generation of ITS leaders.
Read the full farewell interview with Eric Sampson on the ERTICO website