UK-based automotive testing systems supplier, AB Dynamics, has launched a new product that offers complete connectivity of all test vehicles and objects and the reliable collection of data when undertaking automated/autonomous vehicle (AV) and advanced driver assistance systems (ADAS) testing.
AB Dynamics' TrackFi PowerMesh is a new dual band IP (Internet Protocol) radio that can select between two frequency bands using 2.4Ghz and 5Ghz RF transceivers, ensuring optimum connectivity between multiple vehicles in a test scenario and secure transfer of high throughput data. The new unit is suitable for use on vehicles, in conjunction with AB Dynamics' ADAS platforms or as static nodes that can be mounted trackside. Low latency data transfer between multiple vehicles or to ground traffic control offers real-time communication via a mesh network, which is essential for driverless vehicle testing. This functionality also ensures that TrackFi PowerMesh is compatible with proving grounds that require complete connectivity of test vehicles, without adding extra testing or set-up complexity.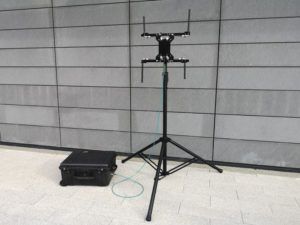 The TrackFi PowerMesh system offers real-time test data from multiple moving vehicles for vehicle-to-vehicle (V2V) or vehicle-to-everything (V2X) position and speed measurement that can be relayed directly to the laboratory for continuous test monitoring or offering remote monitoring and control of AB Dynamics' in-vehicle driving robots. The company's first IP radio technology, TrackFi, will remain available worldwide and is used for point-to-point applications. AB Dynamics currently supplies all of the 25 largest vehicle manufacturers in the world with a diverse range of track and lab testing equipment and state-of-the-art driving simulators. In July, the company acquired driving simulation software developer rFpro, allowing AB Dynamics to offer customers an end-to-end evaluation portfolio, from development in a virtual environment, through track-based testing, to on-road real-world validation of ADAS and CAV technologies.
"TrackFi PowerMesh has been developed due to the growing complexity of vehicle safety systems and increasing need for thorough testing," said Jeremy Ash, sales director at AB Dynamics. "This includes the need for increased throughput and the reliable transfer of live test data. TrackFi PowerMesh can help streamline these programs by ensuring simple, safe and efficient data collation and transfer with a point-to-point range of up to 1km depending on the operating country. It is complementary to our wider portfolio of ADAS and autonomous vehicle test systems and provides significantly more robust operation than traditional WLAN-based solutions."
Ash added, "We have designed the latest generation radio to provide a high level of modularity, ensuring that it is suitable for as wide a range of test scenarios as possible. For example, the four omni-directional antennas are foldable, making it ideal for ADAS testing where collision with a Guided Soft Target could otherwise cause damage and jeopardize data transfer. Static nodes can also be hardwired to a power supply for permanent use or used with portable battery packs for flexibility of testing. The entire system can be easily set-up or transferred between vehicles, targets or locations."