Congestion cost the UK economy nearly £8bn (US$10.2bn) in 2018, according to the latest annual Global Traffic Scorecard that that was published by mobility analytics services provider Inrix yesterday.  
In its latest survey, the company identified and ranked congestion and mobility trends in more than 200 cities across 38 countries. In the UK, the 2018 Traffic Scorecard analyzed congestion and the severity of it in the country's top 20 urban areas.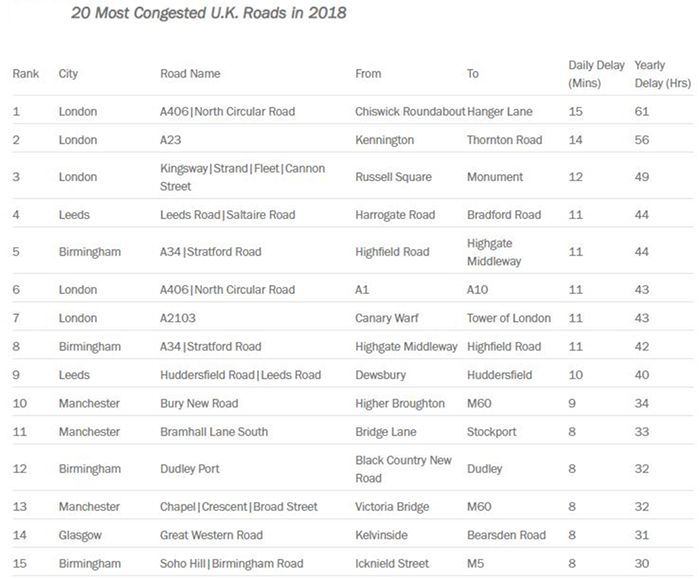 Drivers lost an average of 178 hours a year due to congestion, costing UK motorists £7.9bn (US$10.1bn) in 2018, an average of £1,317 (US$1,686) per driver. London (227 hours lost due to congestion) and Birmingham (165 hours) ranked as the two most congested cities in the UK by Inrix's overall impact of congestion ranking. London drivers lost up to £1,680 (US$2,151) per year due to congestion, followed by Edinburgh, Manchester and Leicester. Liverpool had the lowest cost of congestion among the UK cities studied, at £878 (US$1,124) per driver.
The A406 from Chiswick Roundabout to Hanger Lane in London tops the Inrix list of worst corridors in UK, with the average driver wasting 61 hours per year in congestion. The A23 and the Strand in London, and Leeds Road in Leeds and the A34 in Birmingham, make up the top five. Of the country's 15 most congested corridors, five are in London, followed by Birmingham (4) and Manchester (3). Edinburgh and London tie for title of UK's slowest city, with 'last-mile' speeds of 7mph (11km/h), meaning it is faster to ride a bicycle than drive or take the bus.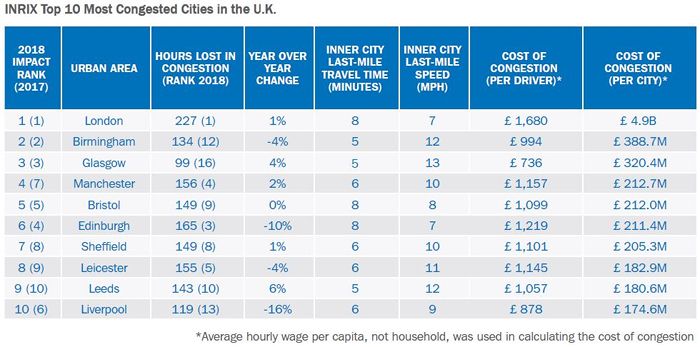 The 2018 Traffic Scorecard calculates time lost in congestion by employing peak, off-peak and free-flow data. Peak corresponds to the absolute worst portion of the morning and afternoon commute. Off-peak is the low point between the peak periods. An economic analysis was performed to estimate the total cost to the average driver in a city, and a total cost to the city population. Worst corridors are limited to those that have the highest traffic volume and are ranked by the average hours of delay per driver in 2018.
"Congestion costs Brits billions of pounds each year. Unaddressed, it will continue to have serious consequences for national and local economies, businesses and citizens in the years to come," commented Trevor Reed, transportation analyst at Inrix. "In order to avoid traffic congestion becoming a further drain on our economy, it is increasingly obvious that authorities need to adapt. With the help of new and innovative intelligent transportation solutions, we can begin to tackle the mobility issues we face today."
Commenting on the report, Glynn Barton, director of network management at Transport for London (TfL), said, "We are taking bold action to reduce congestion and improve London's poor air quality. This includes: removing the Congestion Charge exemption for private hire vehicles, reducing the time taken to clear up unplanned incidents, and ensuring that roadworks by utilities companies and others are better coordinated. We are also working with the freight industry to encourage more efficient deliveries across the capital."