Teconer Oy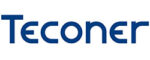 Teconer provides accurate and compact road weather measurement systems for both mobile and fixed applications.
Teconer is the pioneer in the field of mobile road condition measurements and has an extensive knowledge on modelling of road weather and surface condition. The company develops environmental sensors and specializes in optical sensor technology in selected applications. A new, compact weather station is launched by Teconer in autumn 2020. The systems assist in planning the winter maintenance operations, in optimizing the use of de-icing agents and in providing road users safe conditions. When the operators have access to road weather forecasts, they can plan the operations even more efficiently and the forecasting services may improve the quality and precision of the forecasts with the help of the measurement data.
Road weather station
The compact Road Weather Station RWS10 is available for all essential road weather measurements, including surface condition, friction, water/ice layer thickness, air pressure, wind speed, dew point and surface temperature. All collected data is available in a user-friendly format on our server on a map basis at https://roadweather.online and can be easily integrated into other traffic management systems.
The commissioning of the station by the roadside is easy. Potentially needed relocation will be straightforward, and maintenance requires very little effort. All software and firmware can be remotely updated.
Mobile road weather measurements
The mobile monitoring system reports winter road surface condition, friction, surface temperature, dew point temperature and water layer thickness on a user-friendly interface on Road Condition Map (roadweather.online), where data can be viewed on the map or as graphs. Photographs can be taken by mobile devices in the vehicles, and they are readily integrated into the same interface. Photographs will provide useful additional information about the surface conditions especially during a snow event.
Continuous measurements by mobile sensors effectively complement the data gaps in road sections between fixed road weather station sites and improve the understanding of the road surface conditions all over the network.