Mark D. Miller, chief commercial officer at AEM, reveals how specialist tools are helping fleet managers ensure their drivers make it to their destination safely in adverse weather conditions 
It seems there are more and more vehicles on the roads every day, creating frustrating and costly traffic situations. What's more, as the effects of global warming increase, environmental experts say extreme weather will become more frequent, volatile and dangerous. The US Department of Transportation calculates that hazardous weather conditions contribute to more than 1.2 million crashes, and many of those are significantly more damaging than a minor fender bender. From those accidents, there are over 418,000 injuries and more than 5,300 fatalities yearly.
When there are hazardous weather conditions, drivers have reduced control of their vehicular mobility and slower traffic signal responses. All types of weather can impact driving, but 70% happens on wet pavement. While fleet drivers are often tightly scheduled – unexpected conditions can throw them off – including any weather risks that come with it. There are plenty of efforts to raise awareness of these challenges – policymakers trying to institute policies that could combat climate change, etc. – but those will not come swiftly enough for drivers on roads today. Automated technology based on real-time road condition monitoring is now used so that fleet managers anticipate and decrease risks that are increasingly present for drivers on their long-haul routes.
Keeping the fleet safe
Just one fleet vehicle and driver involved in an accident can cost a business money, its reputation and puts its employees at risk. With end-to-end road weather solutions, fleet managers can significantly decrease the risk of crashes and delays that can come with severe weather. AEM designs complete systems, from sensors to data loggers to software, that deliver mission-critical data to make the best decision possible. From winter weather conditions to flooded roadways, the road weather product line offers a complete solution for agencies of all sizes to solve every potential challenge.
Monitoring conditions
Pavement and meteorological conditions are detected through road weather monitoring systems placed along roads. AEM's Road Weather Information Systems have several solutions to monitor extensive pavement and atmospheric measurements. These systems include intricate sensors that can accurately gauge air temperature, surface temperature, precipitation, pressure, wind speed and direction, relative humidity and dew point. Designed for reliability and accuracy in harsh conditions, sensor inputs and outputs are surge protected, allowing the system to recover and decrease necessary maintenance visits. Systems can run on low power and be solar-powered, but a battery is included for backup operations. This technology can provide motorists with early warnings about any potential conditions or hazardous road conditions.
Cameras also use AI technology to analyze imagery and provide real-time verification of accidents or endangered motorists, notifying emergency responders as needed. Collected and analyzed in one platform, the quality, real-time localized data and images give complete situational awareness of storms and road conditions, helping improve response time and safety.
Sensors on the move
One key piece of technology that significantly enhances fleet safety is mobile road weather sensors. A vehicle-mounted sensor can assess road conditions in real-time. Many accidents occur when drivers aren't aware of dangerous road conditions, but road weather sensors provide real-time monitoring of road conditions from a moving vehicle. Infrared technology detects wet conditions, ice and snow without the need for any sensors on the pavement. It is designed to withstand the harshest environments and alert drivers early on, protecting them, the vehicle and their cargo. Mobile sensors also expand the coverage and capabilities of existing fixed road weather stations at a lower cost and enable decision-makers to quickly target road surface treatments.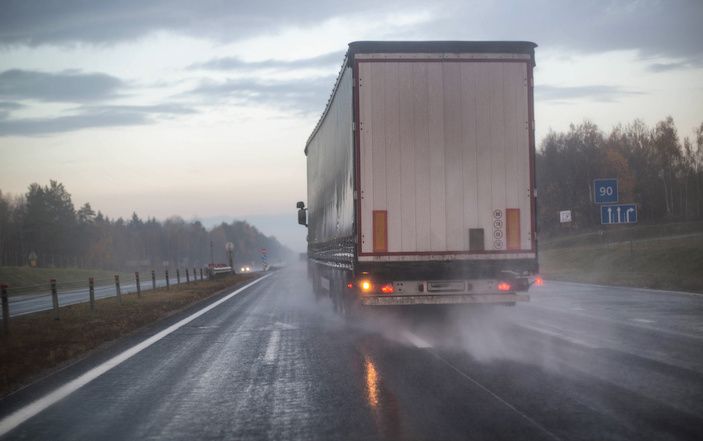 Decision support and warning software
With multiple sensors constantly collecting data, organizations and community leaders must be equipped with software to store the data and images for complete situational awareness of storms and road conditions. AEM's Contrail for Road Weather software platform collects, stores, analyzes and disseminates data from road weather solutions to organize and manage road weather data. Accessible on devices with a standard web browser for remote data monitoring, data can be collected from multiple different sensors, providing extensive visualization and analysis of real-time or historic data. This can help predict future weather events to better prepare operations personnel for handling severe weather.
Customizable alerts and alarms can also be set up for specific conditions measured by the sensors, along with multiple delivery methods of the alarm to ensure that the necessary people, including maintenance and operations personnel, are aware of the event. Special screens and configurations are also available for road weather.
When severe weather strikes
Fleets are just one piece of the bigger picture. Many agencies and communities are already using these solutions daily, automating motorist warnings and remotely monitoring locations where drivers might need assistance. Mother nature can strike at any time. When dangerous conditions present themselves, these solutions lessen the impact of severe weather and provide information that can be significant in guiding operations or emergency actions, including road closures. Through end-to-end intelligent monitoring and alerting solutions, managers and drivers can better plan, detect, prevent and reduce risks, allowing drivers to stay aware and ahead of changing conditions. Overall, it can save a company money, keep the supply chain moving, safeguard its reputation and keep everyone safe.