I have been writing this column for several years now and have no idea how many people actually read it. When I mention it to friends in the industry many of them say that they do, but regardless of reader numbers, I enjoy it as an opportunity to opine on the state of the industry. As I approach another post-Medicare birthday, I've been looking back a bit more than usual. In this issue's column and then again next time I'd like to offer some reflections on both my personal story and the industry story over the past few decades. Let me start where my career began in transportation, back in the early days of computerized technology, and take you forward into today's wireless, connected world.
My earliest connection to what would become ITS was in the 1980s when I became the deputy commissioner of NYC DOT. We were, as we said at the time, computerizing NYC's signal system. It was pre-mainstream PCs and the box we had was known as an IBM 'mini'. We were completely dependent on IBM and so repeated discontinuation of lines of equipment led to repeated delays in implementation. I was there for three years and never got to flip a switch.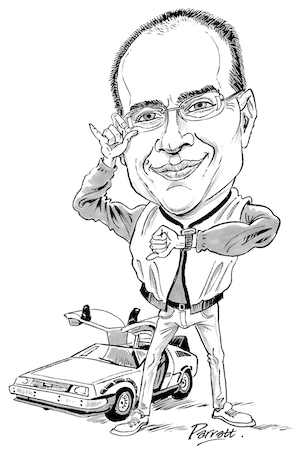 Another early implementation was the freeway management on two NYC highways. The monitoring was with cameras and the best way we could access them was with hard-wired connections and slow transmissions of video. Full motion video was a dream.
One more seminal event in that period was the LNG tanker truck that sprung a leak on the George Washington Bridge. Very quickly not only was the bridge shut down, but gridlock overtook the entire regional road network. All we had for communication was the telephone and bilateral links between agencies. That led to the creation of Transcom a multi-agency regional transportation information hub.
Fast-forward a decade to the Triborough Bridge and Tunnel Authority, where engineers were starting to test automatic vehicle detection (AVI), the precursor to electronic toll collection (ETC). The guys in the back room were trying to find a tag and reader that would not interfere with the tags and readers that the Port Authority was planning to install for tolling. My inspiration was that we were asking the wrong question.
Rather than 'how do we not interfere', it should have been 'how do we cooperate'? My idea was a single tag for all the toll roads, so I called a regional meeting and created E-ZPass.
It's interesting to see that while I recounted these as seminal moments in my career, they can be seen as paradigmatic for the ITS business as a whole. In the first instance, it was computer power and the connection to the actual signals. In the second, it was video and its transmission back to the control center. In the third, it was regional communication. Finally with E-ZPass it was connectivity and regional standards. These are all of the past issues that we have solved them in ways that were unimaginable to us when we started out.
Larry Yermack is strategic advisor to Cubic Transportation Systems, California. He can be reached at lyermack@gmail.com