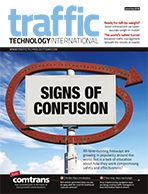 The June/July 2018 issue is now available online! Packed full of news, interviews and features, including:
SIGNS OF CONFUSION : All-lane-running smart motorways – controlled by advanced VMS – are one of the flagship success stories of Highways England. Now, as the idea is taken up by other authorities around the world, James Gordon takes a look at the real-time traffic management practices necessary to ensure they work.
CARLOS BRACERAS : Carlos Braceras, executive director at Utah DOT and chair of the ITS America board, reveals how a decision to install fiber optics on all road projects since the early 1990s is now paying back in a big way.
SCALES OF JUSTICE : Using dynamic weigh-in-motion for direct enforcement and toll-by-weight is technically possible, and now more accurate than ever, but legal frameworks stand in the way in many jurisdictions. Saul Wordsworth finds out why, and asks if the situation is likely to change in the near future.