E-scooter firm Voi has announced partnerships with CityMaaS and Captur to give all road users a simple way to locate, navigate and report any misplaced scooters that may cause concern to the public.
This collaboration will empower the e-scooter operator and local authorities to make more informed decisions, making the necessary adjustments to the service or infrastructure to create safer and more inclusive cities. At the same time, Voi will be able to prioritise and address any reported hazards even faster.
Established to improve accessible living for people with disabilities and their friends and families, CityMaaS uses machine learning and data to create personalised products and services to make their daily journeys easier.
Voi's API integration with CityMaaS Mobility Map Platform will allow CityMaaS to share the location of Voi e-scooters in its real-time travel information, which is available for free for disabled people, and tailored to their needs across the UK. CityMaaS users will also be able to report any scooters causing concern, so Voi can swiftly take action and correct the situation.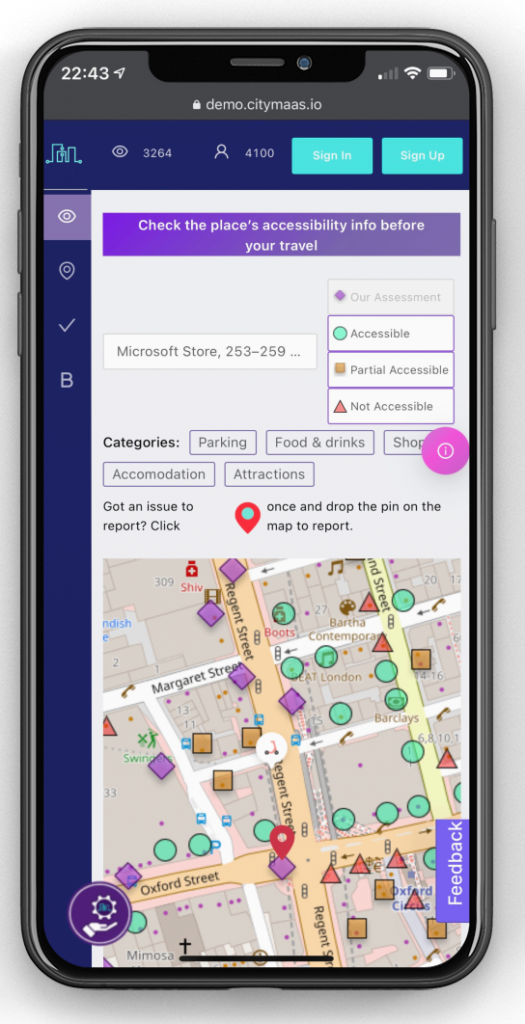 The platform uses machine learning to predict any missing accessibility data with an accuracy of 80%, enabling the community to crowd-source real-time travel information to help each other to overcome travel obstacles in smart cities. CityMaaS has hundreds of active users across the UK, who will benefit from this integration with Voi Technology, making it easier for them to go about their daily lives. This integration will be live at the beginning of 2021.
In addition, Voi is also doing a trial with London based software platform, Captur. Backed by Google for Startups and Innovate UK, Captur is an all-in-one tool for capturing and managing photo evidence. The company partners with rental and subscription-based businesses to help identify and resolve damage fast, both to the physical assets and company reputation, and uses machine learning to automatically identify and prioritise issues.
Voi's collaboration with Captur will enable anyone who finds a Voi e-scooter misplaced to report its exact location and the issue by scanning a QR code, located on the base of the scooter, and submit a photo. This solution aims to improve local recovery operations and leverage machine learning to drive improvements in accessible parking and safer streets for all. Voi will start to trial the Captur software in one of the cities where Voi has trials at the beginning of 2021.
 "We've seen how Covid-19 has sped up adoption of new green modes of transport as people look for safer, more convenient ways of travelling," says Charlotte Bax, founder of Captur. "The future of transportation is on-demand, with new subscription and pay-as-you-ride shared e-scooters and bikes popping up all over our cities.
"By partnering with Voi to enable anyone to capture evidence of damage or potential hazards, we hope to drive the shift from antisocial behaviour to a shared responsibility for our neighbourhoods and cities. We believe that inclusive, open-access technology is the key to building trust – between operators, councils, and city dwellers."