JCB today (January 11, 2020) revealed its latest, groundbreaking machine – the PotholePro. A vehicle dedicated to road repairs, based on its popular Hydradig, compact wheeled excavator.
The new vehicle has been developed as a dedicated pothole repair solution to perform spot-repairs on roads that will be permanent and do away with the need for labour-intensive repair methods or additional expensive machinery. It cuts, prepares and cleans asphalt using its dedicated attachments, and also removes chippings. Once all that is done workers can move in with hot road surface, which is spread and compacted using separate tools.
The UK OEM is launching the new machine first in its domestic market, where potholes are a national scourge. The British Chancellor Rishi Sunak last November vowed to invest £1.6bn to fix potholes in Britain and 'level-up' uneven roads. The announcement was welcomed by the construction industry and motorists, but new figures from the AA reveal that the funds are unlikely to be enough, with more than £11bn-worth of potholes in need of repair across the UK.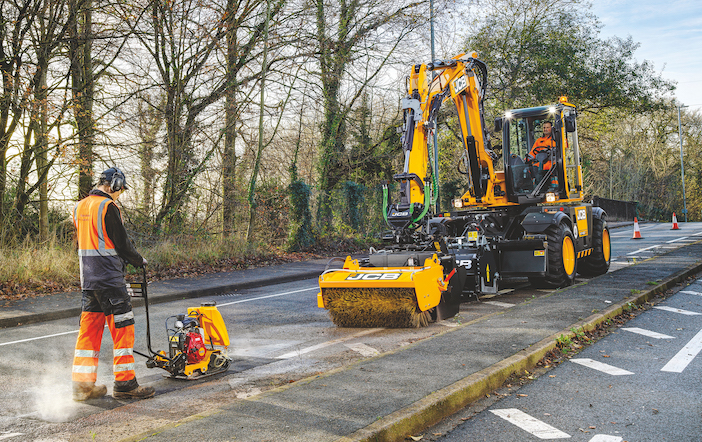 Nevertheless, JCB's solution should help the money go further – it can repair a pothole in less than eight minutes, which is four times quicker than standard methods and at half the cost of current solutions. The PotholePro can prepare up to 250 square metres of roadway in a single shift and allows the contractor or local authority to cut the defect, crop the edges and clean the hole with one machine – mechanising jobs traditionally done by pothole gangs and delivering up to a 50% cut in daily costs. Safety is also improved as the gang does not have to complete the hand held cutting and breaking, eliminating the risk of hand arm vibration syndrome (HAVS).
The machine's development has been personally led by JCB chairman Lord Bamford. "Our country is quite rightly fixated on this dreadful problem and as a British manufacturer I am fixated on finding a solution," he says. "We simply cannot allow our road network to continue to be blighted by potholes. JCB's solution is simple and cost effective and fixes potholes permanently, first time. Once the machine has done its job all the contractor then needs to do is just add tar."
The JCB PotholePro is equipped with a modified Simex planer, with integrated dust suppression, mounted on the machine's rear skid steer hitch. The planer is 600mm wide, with up to 1.3m of side-shift adjustment. This allows the operator to plane a full carriageway from the kerb, without repositioning the machine. Hydraulic tilt and depth control provide a consistent depth for larger patches.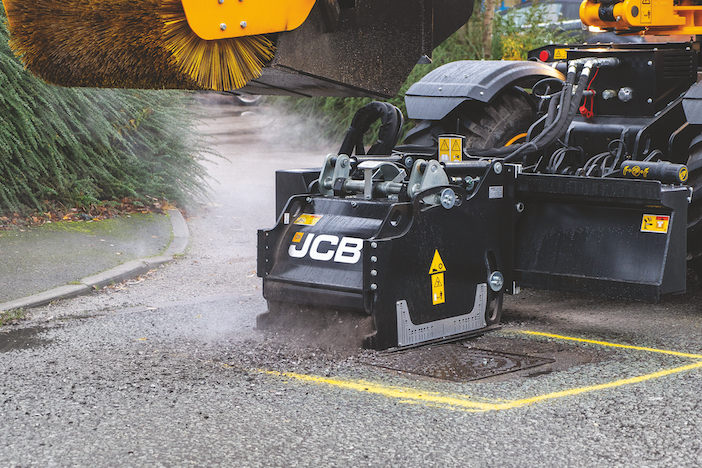 The machine's TAB two-piece boom is fitted with the JCB 'Multi-tool', mounted on an X12 Steelwrist tilt-rotator. The 'Multi-tool' comprises of two attachments, a dedicated hydraulic cropper and a sweeper/bucket. The 600mm cropping tool eliminates the need for floor saws or hydraulic breakers, providing a squared off, clean cut to the repair area. The operator then rotates the boom head to bring a 1.2m wide sweeper/bucket into use, to clean up the pothole area, eliminating the requirement for a separate sweeper truck. Material lifted by the sweeper/bucket can be loaded directly into a support truck for rapid removal from site.
The machine has been in trials on roads in Stoke-on-Trent for months and the city council has worked with JCB over the last 12 months as innovation partners to develop the PotholePro. In initial testing, the machine completed 51 road repair jobs in 20 days, which would have taken a team of up to six operatives 63 days to complete normally.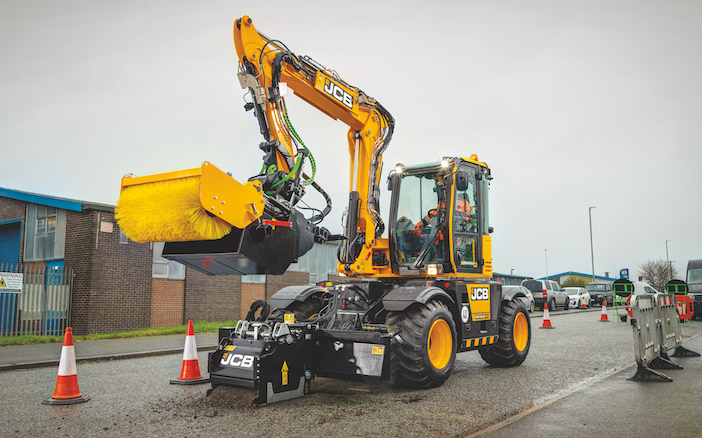 Councillor Daniel Jellyman, Stoke-on-Trent City Council cabinet member for infrastructure, regeneration and heritage, says he has seen a 700% increase in productivity: "Potholes are a nuisance to motorists up and down the country and we've worked closely with JCB to come up with a solution to what is a national problem. In a time when every penny and pound counts for local authorities, we're delighted to be at the forefront of developing and trialling new technologies and ways of working, especially ones which could save residents money."
AA President Edmund King OBE says: "The toll of pothole damage on cars is already breathtaking. However, as more people take up cycling due to avoiding public transport in the pandemic and if e-scooters are legalised, then sorting our poor road surfaces becomes more important than ever. JCB has taken the initiative to fix these problems, and we're excited to see its new PotholePro take to the streets."