Disruptors in the mobility industry will be given centre stage at Move 2020, with bamboo bikes, electric skateboards and hydrogen-powered e-bikes among the vehicles available for delegates to try.
Senior figures from ride-sharing firm Lyft and Chinese electric car company WM Motor have been announced as the keynote speakers at the transportation event taking place next month.
Technologies and solutions from 1,000 mobility firms and 250 start-ups, with over 6,000 attendants across government, automotive, logistics and the energy sector due to be at the show. Demonstrations from Pragma Mobility, Boosted Boards, Solar E-Cycels Kenya, Spin, Bird Rides, Gura Rides, Delfast Bikes, WheelKinetic, Simplemobility, Cycl, Unicorn Electrics, Gleam Technologies and Ebike Labs are also expected.
"The way we travel and move around cities, both in the UK and internationally, is changing," said Cormac Martin, Move 2020 conference director.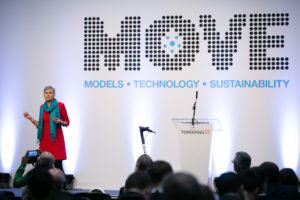 "Move shines a light on the creative solutions and disruptors paving a way towards sustainable travel and the test track is the best place in London to experience what's in store."
Taking place at the London ExCel from 11 February, Lyft chief strategy officer, Raj Kapoor and WM Motor chief strategy officer, Rupert Mitchell will be joined by e-VTOL (electric vertical takeoff and landing) start-up Lilium CCO Remo Gerber, Oxbotica founder, CTO Paul Newman and Los Angeles manager DOT's Seleta Reynolds as well speakers from Free Now, Ikea, VOI, Magna, Royal Dutch Shell and KPMG.
Martin, added, "The speakers we've signed up for 2020 are on a journey that will change the way we travel and move around and between cities. And that's exactly what we're looking for – we've got a bold vision and we need people who aren't afraid to challenge the status quo, and who will inspire the industry to think differently and push limits.
"Our goal at Move is to shape the future of urban mobility by casting a spotlight on the creative solutions and disruptors paving the way towards sustainability."