The Regional Transportation Commission of Southern Nevada (RTC) and the City of Las Vegas have been awarded a US$5.3m grant from the US Department of Transportation (USDOT) for a project that will use autonomous shuttles to connect people with medical and healthcare facilities. 
The City and RTC has received the federal funding for the Las Vegas Medical District Automated Circulator and Pedestrian Safety Project, known as 'GoMed', which will connect downtown areas with the Las Vegas Medical District via four autonomous shuttles. Earlier this week, US Transportation Secretary Elaine Chao, announced a total of US$1.5bn in discretionary grant funding as part of its Better Utilizing Investments to Leverage Development (BUILD) program, which has been awarded to 91 projects in 49 states and the District of Columbia, with the winning projects being chosen out of a pool of 851 applicants.
Due to begin service late next year, GoMed will demonstrate the ability to apply automated technology in a complex urban setting, while providing a solution to first-mile/last-mile mobility issues. The groundbreaking project will feature four autonomous shuttles that will circulate between downtown and the fast-growing medical district, comprising 684 acres (260ha) of medical facilities that serve nearly 200,000 patients annually and will employ about 6,000 individuals by 2020.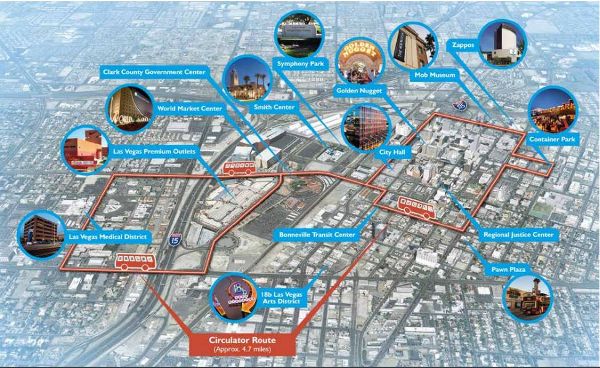 The district includes four hospitals and the new University of Nevada-Las Vegas (UNLV) School of Medicine campus. The project will also include 23 smart transit shelters upgraded to provide wi-fi, information on shuttle arrival times and occupancy, plus a network of dynamic wayfinding kiosks.
Part of the City of Las Vegas Mobility Masterplan, GoMed will enhance safety, particularly for the elderly and persons with disabilities, through the deployment, operation and analysis of innovative pedestrian safety technologies that connect traffic signals, drivers, passengers and pedestrians. The project will also produce useful information, including alerts about activity at signalized and non-signalized crossings through dashboard analytics, smartphone technology, and/or actual hardware at the intersection.
This project comes on the heels of the successful autonomous shuttle that operated on a one-mile loop in downtown Las Vegas from November 2017 to November this year and transported more than 32,000 individuals on nearly 5,000 trips. The RTC and City of Las Vegas partnered on that project with public transport operator Keolis North America and AAA, as well as the French autonomous shuttle developer Navya.
"This forward-thinking grant will further our collaborative efforts to support and develop innovative technologies that enhance safety, mobility and quality of life for our residents," said RTC's general manager, Tina Quigley. "We are grateful for the Nevada delegation and the many partnerships we have at the federal, state, local and private levels to help us accelerate advanced technology in southern Nevada to better connect our residents to employment, education, healthcare and other vital services. This is a remarkable opportunity for the RTC and the City of Las Vegas to bolster our ongoing efforts to build a smart community."