As part of a safety initiative launched by Governor Andrew M Cuomo, the New York State Department of Transportation (NYSDOT) has completed a US$1.8m project to prevent collisions at the state's most frequently struck low bridge.
The scheme has seen new technology deployed at the King Street Bridge over the Hutchison River Parkway in Westchester County. The project installed an over-height vehicle detection system and additional warnings on the low bridge, which has been struck by vehicles more than any other in the state; 24 times last year, and a total of 130 times from 2008 to 2018. The King Street Bridge previously had warning devices on it, but the latest project enhanced them with signs, electronic variable message signs (VMS), bridge lighting and communications upgrades connected to the Hudson Valley Traffic Management Center and Westchester County Police Department. The two agencies can help errant trucks get off the parkway safely before they hit the bridge.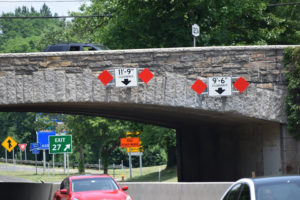 The project also installed two over-height vehicle detectors at Exits 26 and 29 of the Hutchinson River Parkway, in advance of the bridge. The detection system includes receiver sensors mounted on either side of the Hutchinson River Parkway with an infrared transmitter in advance of the King Street Bridge, creating an infrared beam over the road. When an over-height vehicle breaks the beam, the receiver sends a signal and activates a warning message alert on a sign, notifying the driver to exit the parkway immediately. This is in addition to two electronic portable VMS that NYSDOT deployed in 2014 on the approaches to the King Street Bridge, displaying very visible 'TRUCKS MUST EXIT NOW!' warnings. Technology was also installed on the bridge that actively sends warnings to truck drivers potentially entering the Parkway through their CB radios. The warning systems enhance safety through a 3E approach; a combination of engineering, education and enforcement strategies.
Governor Cuomo included US$25m in this year's state budget for bridge strike prevention enhancements statewide. There have been more than 576 bridge strikes on NYS highways since 2015, causing injuries, traffic delays and damage to bridge and highway infrastructure. The state's historic parkways, most of which ban commercial vehicles, are particularly vulnerable because of their low bridges. Over-height detection systems were installed on five parkways in the Hudson Valley in 2015, including the Hutchinson River Parkway. NYSDOT also has over-height vehicle detectors at 16 locations in Nassau and Suffolk counties.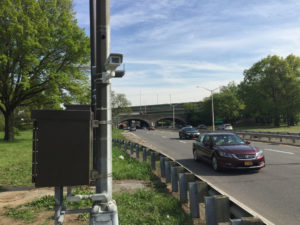 "The cutting-edge technology installed as part of this project will greatly enhance safety at the King Street Bridge, preventing bridge strikes by alerting drivers to exit the Parkway if their vehicle is too tall and immediately notifying police that assistance is needed," said NYSDOT commissioner, Marie Therese Dominguez. "With these improvements and plans for additional locations, Governor Cuomo is continuing extensive efforts to curtail bridge strikes, enhance the safety and reliability of our busy thoroughfares, and help travelers reach their destinations without delay."
Cuomo added, "Bridge strikes aren't just dangerous for everyone who uses our highways, they're also a nuisance for drivers who get stuck in traffic as a result."