Natix, the startup building a decentralized network of cameras creating real-time maps of cities, has announced it has raised $3.5 million in seed funding led by Blockchange Ventures, to help fund its new dive-to-earn road-data app, launched this month.
Natix's proprietary AI technology can make any camera smart and privacy compliant. The technology allows any camera to scan its surroundings and detect events – from the size of the crowd or the availability of parking spots – while preventing the device from capturing personal data such as faces or license plates.
The technology aims to overcome the costs of deploying and maintaining new camera networks by using hardware already available. The first product of Natix Network is the Drive& app – a drive-to-earn mobile app, which can collect geospatial data through smartphone cameras as drivers go about their daily journeys.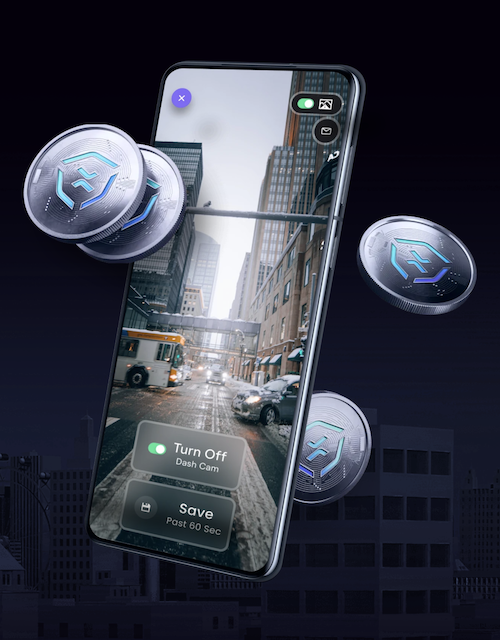 The app is equipped with AI software, optimized to run on smartphones with minimal computational power. All drivers need to do is position the phone on the dashboard with the app open and it begins collecting the data – including the volume of traffic on the road, incidents, objects such as traffic signs, and infrastructure damages including potholes and faded road markings. Through this Natix hopes to scale and collect geospatial data faster than traditional methods.
It is envisaged that future customers, such as local governments, transport authorities, and mobility companies will pay to access the insights via a dashboard to help improve existing road infrastructure, plan new routes, or create parking services, at a fraction of the cost of traditional methods.
Almost any camera, anywhere in the world can run Natix's AI software, collect metadata and contribute to a dynamic map of the world, what the startup calls the 'Internet of Cameras'. The cameras' owners are rewarded with Natix's native cryptocurrency for their contributions, with the aim that the map data will be monetized to support infrastructure or mobility applications.
The main mission of the blockchain-based and crowdsourced camera network is to create a real-time and dynamic map of the world. This Decentralized Physical Infrastructure Network (DePIN) of cameras will use Natix's AI technology to also ensure that no private data is collected.
"DePIN is a hot topic as it will enable companies to build physical (sensor) networks 10-100x faster," says Alireza Ghods, co-founder and CEO of Natix. "With Drive& and our mobile-first approach, we believe we can build such a network quicker and on a larger scale. We're enabling citizens to play a part in improving their cities through their smartphones and get rewarded for it."
"We're excited about the potential for companies like Natix to use DePINs to reduce costs and hurdles associated with physical infrastructure," says Ken Seiff, managing partner at Blockchange Ventures. "Natix is making it easy and accessible to crowdsource critical geospatial data about roads and cities, just by using existing smartphone cameras. They can do this in a compliant and privacy-focused manner and make that data available to local governments and mobility companies with additional insights layered on top. We look forward to working closely with Alireza and the Natix team to support them on this journey."